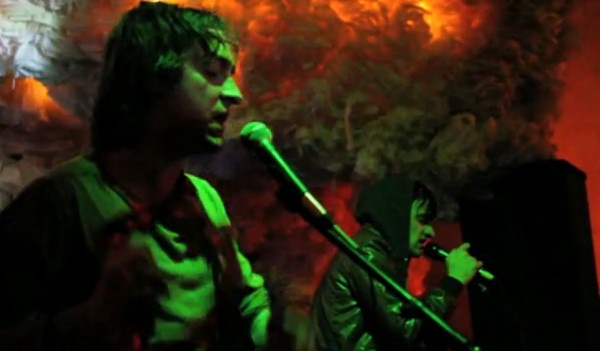 [Video still by Cannons]
Looking at Brooklyn bands with big, big potential to come out of SXSW this week transformed into rising stars, Hooray For Earth has got to be high on the list. Though there is no exact formula for making it to the next level, it has to include the appeal to resonate beyond narrow indie borders into the broader pop realm. Look at bands that have done it recently (Yeasayer, in particular) and Hooray For Earth is right up there with them. How so? The energy of Hooray For Earth's music is boundless, their beats ecstatic. Their songs are anthemic, but smart; fresh, but digestible. Songs like "Rolling/Nectarine" are all big beat backbone with shimmering keys and soaring choruses that click in any language, and that applies to most of their standout 2010 EP, Momo. They are both of rock music but beyond it in the way that many recent successes are; without dropping gimmicks, the band's mastermind Noel Heroux takes some cues from the electronica realm and makes music that sounds like the near-future.
This Glasslands show was packed from when doors opened, completely sold out and then some. Undoubtedly, many of us had the same idea of spending Fat Tuesday sending off some local heroes before an SXSW run that will include a coveted spot at Pitchfork's showcase. Heroux and Co. got some unintended practice in crisis management, as gear malfunctioned left and right at the show's start, including Heroux's bass strap snapping during the second number. That didn't slow the show's momentum a bit, though, as HFE showcased a number of new songs that will appear on their forthcoming full-length, True Loves, which has already been generating heat in media circles. The hype seems justified, as Heroux has evolved the anthemic pop sound of Momo to embrace more tribal sounds, such as on the set opener, "Realize It's Not the Sun," and the spacescape-evoking "Black Trees." The backing vocals of the ladies of Zambri were key throughout the night, perhaps no more so than on the standout title track to their new record, "True Loves". Begged for an encore, the band came back to perform "Form" from Momo, which Heroux introduced as "This is Form. It's rock n' roll." Not to contradict Noel, but in this moment, Hooray For Earth songs are all rock n' roll. The rest of rock n' roll may just not know it yet.
I recorded this set with the DPA microphones and an excellently mixed board feed from Derek at Glasslands. The sound is outstanding. Enjoy!
Stream "True Loves":
Audio clip: Adobe Flash Player (version 9 or above) is required to play this audio clip. Download the latest version here. You also need to have JavaScript enabled in your browser.
Stream "Rolling/Nectarine":
Audio clip: Adobe Flash Player (version 9 or above) is required to play this audio clip. Download the latest version here. You also need to have JavaScript enabled in your browser.
Direct download of MP3 files [HERE]
Download the Complete show in FLAC [HERE].
Hooray For Earth
2011-03-08
Glasslands
Brooklyn, NY USA
An acidjack master recording
Recorded and produced by acidjack for nyctaper.com
Equipment: DPA 4021+Soundboard>Edirol R-44 [Oade Concert Mod]
Position: ROC, balcony, ~ORTF
Mastering: 2x24bit/48kHz WAV>Audacity (vocal-enhancing compression on soundboard track, smooth peaks, mixdown, adjust levels, EQ, smooth peaks, amplify and balance, downsample)>FLAC ( level 8 )
Tracks:
01 Realize It's Not The Sun
02 Surrounded By Your Friends
03 Get Home
04 [banter]
05 True Loves
06 Rolling/Nectarine
07 [banter]
08 Sails
09 [banter]
10 Black Trees
11 [encore break]
12 Form
If you download this recording from NYCTaper, we expect that you will PLEASE SUPPORT Hooray For Earth, visit their website, and purchase Momo and their debut LP, True Loves directly from Dovecote Records.