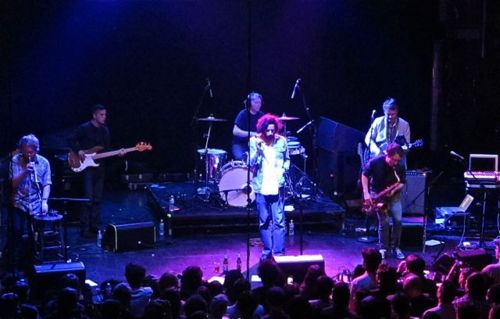 [Photo by acidjack]
At the end of a weekend where a certain other "band's" "farewell" show sucked up a lot of the oxygen, this set by the multi-talented Dan Bejar, aka Destroyer, was the perfect coda. As brilliant and distinct as Bejar's musical vision is – and his 2011 release, Kaputt, is already on the "album of the year" shortlist, if the Twitter-ing masses can be believed – Bejar's music is almost radically foreign to what else is going on in American music today. Which is to say, Kaputt isn't really dance music, nor can it be considered "rock" of most common varieties, and neither is it some fist-pumping, amped-up hybrid of the two. Bejar's edges are soft, his choruses delivered on a silky train of trumpet and sax trills in a moderate, almost diffident tone. If the common mode for today's bands is a marriage of post-punk and hard dance music, 2011's Destroyer could be, well… indie rock and smooth jazz (which I in no way mean as an insult). In front of an audience that I am guessing included a lot of people coming down from the high (emotional or otherwise) of the previous night, I imagined that giving a memorable performance would be a challenge. But Bejar has wisely outfitted himself with an eight-person band that is more than up to the challenge of turning his proggish, cerebral songs into an outstanding live performance – one that had women throwing underwear at the stage and plenty of fans screaming. The fact is, at this point, Bejar's fans appreciate his lush, intellectual songs, and that is to their credit. This is music that rewards patience and contemplation, not slam-dancing.
As a key part of the "supergroup" The New Pornographers, Bejar is of course a master of the pop song, even in this less-obvious context; "Painter In Your Pocket" and "Song For America" could (and probably did) inspire singalongs. My favorite numbers of the night came at the end: "Suicide Demo for Kara Walker" and its beautiful intro, with a distortion squall leading into a patient flute passage before the song's main dance beat kicked in, as well as the epic "Bay of Pigs," which BrooklynVegan rightly identified not only as the source of the loudest singalong, but also the aforementioned underwear-tossing. Bejar seemed as relaxed throughout the set as his record's sound implies, and why not? He has the right musicians to execute his vision, songs that are refreshingly out of place, and fans that want what he has to offer. I hope he won't be saying "farewell" to this project any time soon.
Our new contributor hi and lo I recorded this set from the balcony immediately to the left of the soundboard with four Schoeps mics. The sound quality is outstanding. Enjoy!
Special thanks to Merge Records and Dan Bejar for granting us permission to record.
Stream the complete set

Direct download of MP3 files [HERE]
Download the Complete show in FLAC [HERE].
Destroyer
2011-04-03
Webster Hall
New York, NY USA
An acidjack master recording
Recorded by acidjack and hi and lo
Produced by acidjack
Equipment: Schoeps CMC6U/mk41>Sound Devices USBpre2+Schoeps mk4v>NBox>>Edirol R-44 [Oade Concert Mod] (24/48)
Position: Balcony, immediate left of soundboard, on clamps pointing at stacks
Mastering: 2x24bit/48kHz WAV>Audacity (mixdown, set fades, tracking, light EQ (less than -1dB cut at 160, 200, and 250Hz), amplify and balance)>FLAC ( level 8 )
Tracks [Total Time 1:14:38]
01 Intro
02 Chinatown
03 Blue Eyes
04 It's Gonna Take An Airplane
05 [banter]
06 Downtown
07 My Favorite Year
08 Kaputt
09 3000 Flowers
10 Painter In Your Pocket
11 Suicide Demo for Kara Walker
12 [banter]
13 Song for America
14 Bay of Pigs
If you download this recording from NYCTaper, we expect that you will PLEASE SUPPORT Destroyer, visit their MySpace page, and purchase Kaputt and their other fine releases directly from Merge Records [HERE].