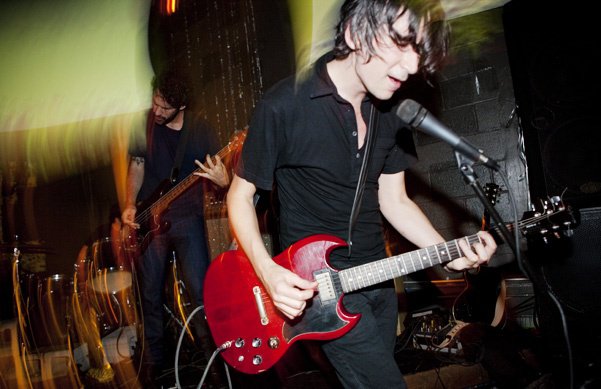 [Freshkills live at Glasslands on October 24, 2010. Photos used courtesy of Jackie Roman Photography]
Brooklyn's Freshkills (named after the infamous Staten Island landfill) play the type of dark, high-tempo, Joy Division and Dischord influenced post-punk that goes extremely well with things that are bad for you – a bottle of vodka, a cigarette, and a pissed-off attitude – and the need to let out whatever demon led you to them that day. Although their music is aggressive, it is also extremely fun to listen to live, with accessible hooks and melodies. This show at Mercury Lounge, on an excellent bill that also featured The Pipettes and Les Sans Culottes, showed them in top form. Sloppy hardcore this is not. The band is readying a new record for release, including the first single "The Bigger Man", which you can listen to at A Heart Is A Spade (as well as the live version below). We look forward to seeing more from Freshkills, and the new album!
hi and lo recorded this set from our usual spot in the venue with Schoeps microphones and an excellent soundboard feed from Kyle at Mercury Lounge. The sound quality is excellent. Enjoy!
Stream "The Bigger Man":
[audio:http://www.nyctaper.com/F4002Freshkills0211/08 The Bigger Man.mp3]
Direct download of MP3 files [HERE]
Download the Complete show in FLAC [HERE].
Freshkills
Mercury Theater
New York, NY, US
2011-04-20
Recorded by hi and lo for nyctaper.com
Source : Schoeps MK5 (cardioid)>CMBI + Soundboard > Tascam DR-680 @ 24 bit / 44.1 kHz
Edit: WaveLab V5.01b (normalize, parallel compression, mixdown)
Dither: Mbit+ Ultra (16 bit, Normal)
Final Format: 16 bit, 44.1 kHz
Tracking: CD-Wave v1.97
Encoding: FLAC v1.2.1 (Level 8 ) with TLH v2.6.0 (Build 168)
Tracklist [Time 33:38]
01. Intro
02. Opposing Teams
03. Why Are You So Unforgiving?
04. Positive Vibes
05. Child We Almost Had
06. The Wolves That Raised You
07. Hotels
08. The Bigger Man
09. New Folksongs For New Buildings
If you download this recording from NYCTaper, we expect that you will PLEASE SUPPORT Freshkills, visit their website, and purchase their official releases through the links on their website [HERE]