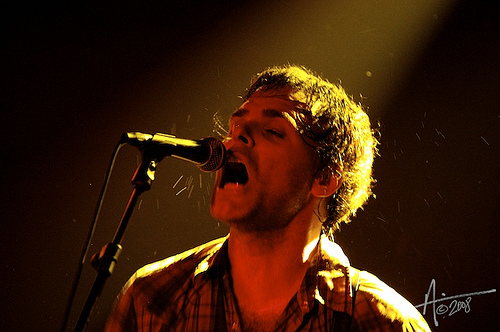 [Local H live at The Riot Room, Kansas City, MO in 2008.  Photos courtesy of Todd Zimmer.  See his Flickr stream [HERE]]
The Chicago power duo Local H are a bit of a rock n' roll time capsule.  Although they formed in 1987, the band first hit the mainstream in the the post-Cobain years with their 1996 FM smash "Bound for the Floor", which couldn't help but remind alt-rock fans of their departed hero. The album that featured the single, As Good As Dead, generated several more radio classics, including "Eddie Vedder" and "High-Fiving MF".  Back in those days – when the major labels still controlled all the levers of artistic success – the only upward route was successful radio singles, big debut record, land the followup.  Like a lot of bands in the late 90s, Local H found themselves caught in the drama of the devolution of the record industry, and their followup to As Good As Dead – Pack Up the Cats – languished more as a result of big-label intrigue than of artistic decline.  Unlike many of their peers, Local H didn't give up, and went on to have a career that has been marked by legendary live shows.  This set at Mercury Lounge, part of a "Singles Tour" celebrating The Island Years, a forthcoming "best-of" of sorts from their 90s output on Island Records, read like a career retrospective, from early songs like "Mayonnaise & Malaise" to the forthcoming single "Cold Matter."
As to the "time capsule" comment, it was striking, from the band's earlier material, how different the concerns of artists were in the 90s versus today.  Lyrically, many of these numbers could easily be touchstones of the era from which they came.  Songs that confront issues like the struggle for authenticity, the worry that your shows are being overrun by meatheads ("High Fiving MF"), and the "one-hit wonder" phenomenon seem quaint in today's car-commercial-driven era, where even one FM radio hit is an unthinkable luxury and most bands are happy to give away their records to fans on bandcamp, let alone worry about what happens to their follow-up on a major label.  Local H may be of an earlier time, but as this show demonstrated, they still have plenty to say.  The night ended with a searing tribute, a cover of TV on the Radio's "Wolf Like Me," in honor of the recently departed Gerard Smith, who died of lung cancer.
Clearly, Local H have some singles left in them.
hi and lo and I recorded this set with a combination of four Schoeps microphones from our usual spot in the venue. Because the band does not permit soundboard recordings, we used only the audience mics, but Kyle's excellent mix comes through nicely.  There are some rowdier moments of crowd noise, but they only serve to add to the experience.  Enjoy!
Stream "Eddie Vedder":
Audio clip: Adobe Flash Player (version 9 or above) is required to play this audio clip. Download the latest version here. You also need to have JavaScript enabled in your browser.
Stream "Wolf Like Me":
Audio clip: Adobe Flash Player (version 9 or above) is required to play this audio clip. Download the latest version here. You also need to have JavaScript enabled in your browser.
This recording is now available for download in FLAC or MP3 at Archive.org [HERE].
Local H
2011-04-21
Mercury Lounge
New York, NY  USA
Four Track Digital Master Recording
Recorded by acidjack and hi and lo for nyctaper.com
Produced by acidjack
Equipment: Schoeps Mk5 (cardiod)>CMBi+Schoeps Mk41>CMC6>>Tascam DR-680 (24/44.1)
Position: At soundboard, slightly ROC, pointed at stacks, mics at approx 7ft.
Mastering: 2x24bit/44.1kHz WAV>Audacity (adjust levels, mixdown, set fades, EQ, tracking, amplify and balance)>FLAC ( level 8 )
Tracks [Total Time 1:28:41]
01 Fritz's Corner
02 All The Kids Are Right
03 Cynic
04 Half-Life
05 Tag Along
06 Twenty-Four Breakup Session
07 All Right Oh Yeah
08 Another February
09 High-Fiving MF
10 [banter]
11 Everyone Alive
12 Michelle (Again)
13 Eddie Vedder
14 Mayonnaise & Malaise
15 Hands on the Bible
16 California Songs
17 [banter]
18 Cold Matter
19 Joey [Concrete Blonde]
20 Bound For the Floor
21 Wolf Like Me [TV On the Radio]
If you download this recording from NYCTaper, we expect that you will PLEASE SUPPORT Local H, visit their website, and pre-order The Island Years from Amazon [HERE]