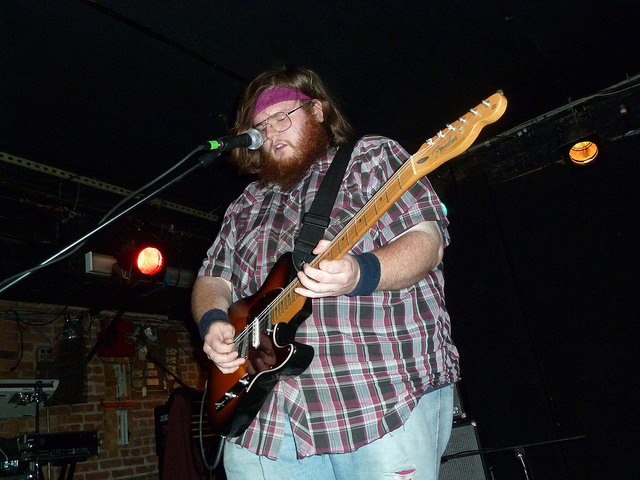 [Photos courtesy of Geoffrey Dicker for According to G]
I don't know what's in the water up in Ontario, Canada these days, but a serious music scene is percolating in Toronto that is fresh, exciting and varied. PS I Love You are from the college town of Kingston, about three hours from Toronto, but they belong with their Toronto-based brethren when it comes to being part of this burgeoning Canadian scene. This set, opening for NYCTaper favorites Diamond Rings, showed off the chops of guitarist/vocals Paul Saulnier and drummer Benjamin Nelson admirably, as they delivered a tight set that consisted primarily of songs from their rave-reviewed 2010 effort, Meet Me At the Muster Station, as well as a couple of new songs. The set closer, "Leftovers," off of a recent 7″ with Diamond Rings, spanned nearly twice the time of the rest of Saulnier's focused tunes, and found John O'Regan himself joining the band in the effort. Saulnier, who began the band as a solo project, gives voice to his angst live even more palpably than on the band's studio outings, and he and Nelson can shred with the best of them. Beneath Saulnier's pitched yowl and the squalls of feedback, it's not hard to hear the real musicianship of PS I Love You; they may be a two-man band, but I would not call them a "garage rock duo." We were sorry to miss the second post-midnight set that the band performed after Diamond Rings' performance, but this 40-minute set was an excellent introduction to another talented new act. Montreal had an incredible run of acts coming up in the late 90s and early 2000s, but they'd better watch out – their brethren to the west are the trailblazers these days.
hi and lo recorded this set with the Schoeps microphones and a soundboard feed from Kevin at Mercury Lounge. Other than a few glitches in a connection during the first song and occasional spots of chatter toward the end of the set, this recording is flawless. Thanks to PS I Love You and Paper Bag Records for permitting us to make and share this recording. Enjoy!
The Diamond Rings set was also recorded and will be posted once approval is received from their management.
Stream "Facelove":
Audio clip: Adobe Flash Player (version 9 or above) is required to play this audio clip. Download the latest version here. You also need to have JavaScript enabled in your browser.
Stream "Leftovers [feat. Diamond Rings]"
Audio clip: Adobe Flash Player (version 9 or above) is required to play this audio clip. Download the latest version here. You also need to have JavaScript enabled in your browser.
Direct download of MP3 files [HERE]
Download the Complete show in FLAC [HERE].
PS I Love You
2011-03-30
Mercury Lounge
New York, NY USA
Premiere download offered at www.nyctaper.com
Recorded by hi and lo
Produced by acidjack
Equipment: Schoeps Mk5 (cardiod)>Schoeps CMBI>EAA PSP2+Soundboard>>Tascam DR-680 (24/44.1)
Position: Clamp to soundboard, slightly ROC
Mastering: 2x24bit/44.1kHz WAV>Audacity (mixdown, set fades, tracking, amplify and balance)>FLAC ( level 8 )
Tracks [Total Time 39:30]
01 Meet Me At the Muster Station
02 Breadends
03 2012
04 Little Spoon
05 CBEZ
06 [unknown]
07 Starfield
08 [new song]
09 [unknown]
10 Facelove
11 [banter]
12 Leftovers [with Diamond Rings]
If you download this recording from NYCTaper, we expect that you will PLEASE SUPPORT PS I Love You, visit them on Facebook, and purchase their music directly from Paper Bag Records [HERE]