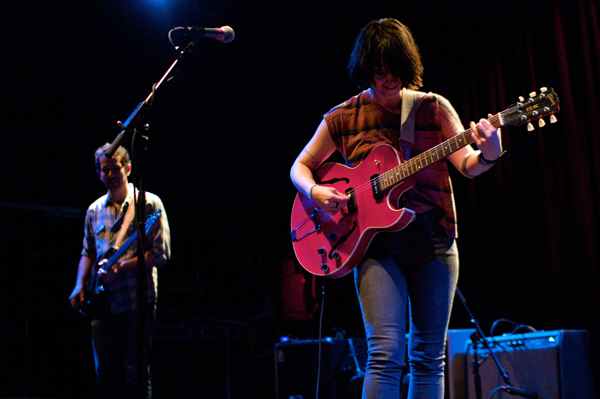 [photos by Amanda Hatfield]
After months on the road playing to bigger crowds in bigger venues than she has ever seen, Sharon Van Etten came home last night to a vocally adoring local crowd. Music Hall of Williamsburg was sold out (as she had done at Bowery in January), and the floor was packed. From my vantage point in the front right of the balcony, I could see the faces of the rapt fans in the first ten rows. On this recording, you can hear the calls of adoration in between each song. Sharon's music has always spoken (almost brutally) honestly about real emotions, and as her popularity grows its inevitable that she's going to connect on a deeper level with fans who relate to those emotions. But fortunately for Sharon, she seems to have truly grasped a perspective on this phenomenon both on stage and off, and keeps a healthy distance from the adoration. Last night's set contained most of what has catapulted her to this success, the 2010 release Epic, along with an abundant amount of strong new material and some solo classics. The night also featured two special guests — Jessica Larabee from show opener She Keeps Bees (recording of their set coming soon) on "Save Yourself", and Aly Spaltro (Lady Lamb The Beekeeper) on "For You". I am privy to some news about Sharon, but can only say to expect an exciting announcement from the Van Etten camp soon. In that vein, we're streaming one of the newer songs "Tell Me", which has developed since its August debut into a powerful number that will likely be featured on any new release.
I recorded this set from the front right of the balcony about fifteen feet from the right PA speaker, and used the hyper-directional Neumanns for what is known as a "stack tape". The clarity is outstanding, but there is less depth than the recording from January. Additionally, the balcony at Music Hall has always had lower vocals in the mix than can be heard on the floor, and this recording is no exception. With those caveats, enjoy!
Stream "Tell Me":
Audio clip: Adobe Flash Player (version 9 or above) is required to play this audio clip. Download the latest version here. You also need to have JavaScript enabled in your browser.
This Recording is now available to Download in FLAC and MP3 at Archive.org [HERE].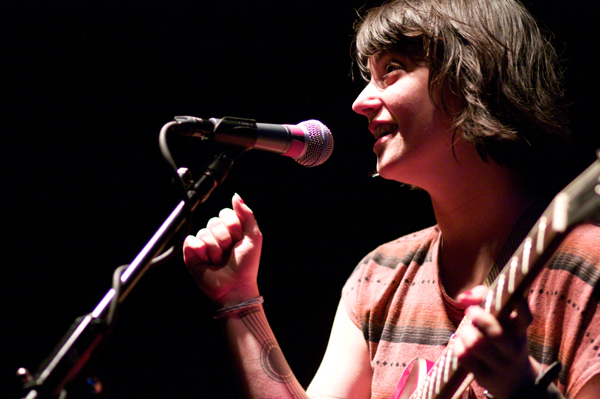 Sharon Van Etten
2011-04-16
Music Hall of Williamsburg
Brooklyn, NY USA
Digital Master Audience Recording
Recorded from Balcony Rail
Far Right 15 feet from Stacks
Neumann KM-150s > Edirol R-44 (Oade Concert Mod) > 24bit 48kHz wav file > Soundforge (level adjustments, mixdown, set fades) > CDWave 1.95 (tracking) > Flac Frontend (level 7, align sector boundaries) > flac
Recorded and Produced by nyctaper
2011-04-17
Setlist:
[Total Time 1:17:42]
01 Heart In The Ground
02 I Am Bad
03 [banter]
04 Peace Signs
05 Save Yourself
06 Don't Do It
07 [banter2]
08 One Day
09 [banter3]
10 Tell Me
11 [banter4]
12 Tornado
13 [banter5]
14 All I Can
15 [banter6]
16 For You
17 [banter7]
18 Love More
19 [encore break]
20 Damn Right
21 Kevin's
22 [banter8]
23 A Joke Or A Lie
If you email nyctaper for access to this recording, we expect that you will PLEASE SUPPORT Sharon Van Etten, visit her website, and purchase her new CD epic from Bada Bing Records [HERE].