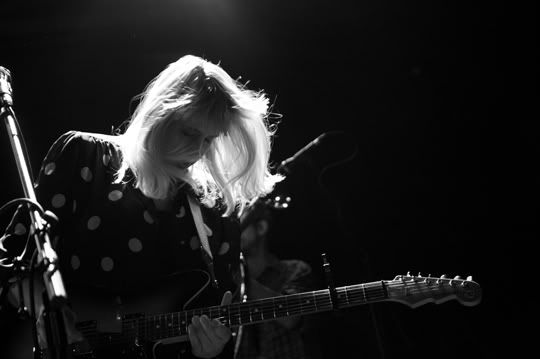 [photo by Amanda Hatfield – courtesy of Matt at A Heart Is A Spade]
When we last saw Wye Oak in January, they were wowing as the openers for The Decemberists and then playing an intimate surprise show at Rock Shop in anticipation of the release of their new album. As acidjack predicted based upon the Rock Shop performance, Civilian (Merge Records) has been the well-deserved breakout release for Wye Oak. At Bowery Ballroom on Thursday, the band seemed propelled by the sell-out crowd and exuded confidence and focus. Jenn Wasner has developed a great stage presence as she aggressively handles her axe while her bright blonde hair swirls about — all while providing vocals with depth and personality. Meanwhile, Andy Stack drums and plays keyboards and effects simultaneously — a musical accomplishment that must require intense concentration. Their set at Bowery contained eight of the ten songs from Civilian, along with two songs from their 2010 EP ("I Hope You Die" is streaming below), several songs from The Knot, and a wild Danzig cover. As the band reached the powerful climax of the set closing "For Prayer" it was obvious to all present that Wye Oak have truly arrived.
I recorded this set with the four microphone rig from our standard balcony rail location and the sound is excellent. Enjoy!
Stream "I Hope You Die":
Audio clip: Adobe Flash Player (version 9 or above) is required to play this audio clip. Download the latest version here. You also need to have JavaScript enabled in your browser.
Direct download of complete show in MP3 files (HERE)
Download the Complete show in FLAC [HERE].
Wye Oak
2011-04-14
Bowery Ballroom
New York, NY USA
Four-Track Digital Master Recording
Recorded Balcony Railing
Neumann KM-150s + DPA 4021's > Edirol R-44 (Oade Concert Mod) > 2x 24bit 48kHz wav files > Soundforge (level adjustments, mixdown, set fades) > CDWave 1.95 (tracking) > Flac Frontend level 7, align sector boundaries) > flac
Recorded and Produced by nyctaper
2011-04-15
Setlist:
[Total Time 1:07:15]
01 The Alter
02 Holy Holy
03 [banter]
04 Plains
05 [banter2]
06 Hot As Day
07 My Creator
08 Dogs Eyes
09 Civilian
10 That I Do
11 [banter3]
12 Mother [Danzig]
13 Take It In
14 We Were Wealth
15 [banter4]
16 I Hope You Die
17 [encore break]
18 Doubt
19 For Prayer
If you download this recording from NYCTaper, we expect that you will PLEASE SUPPORT Wye Oak, visit their website, and purchase Civilian from Merge Records here.