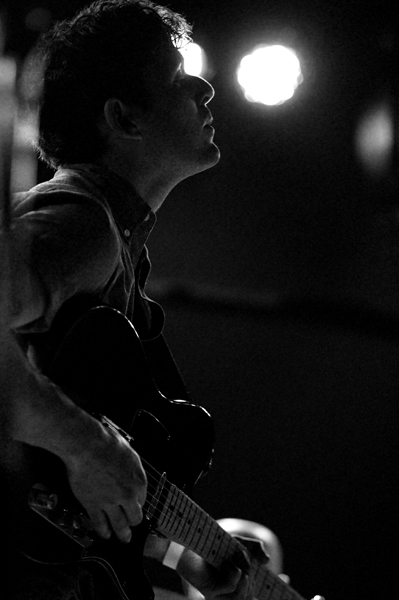 [photos by Amanda Hatfield]
On Friday night, The Antlers played a surprise midnight show at Knitting Factory. The show was a brooklynvegan-presented impromptu CD release show for Burst Apart (Frenchkiss), which will be released on Tuesday. The Antlers treated their fans who missed SXSW to a encore of the show they presented in March — Burst Apart from start to finish. The Brooklyn crowd also got a very special bonus in superb renditions of two Hospice songs as encores, including a powerful "Wake" set closer. But the real focus of this evening was the new material. Burst Apart is perhaps the best album you will purchase this year. The album's production is flawless and the strength of the songs are apparent from start to finish. From the opening "I Don't Want Love" through standout tracks (and future singles) "French Exit", "No Widows" and "Every Night My Teeth Are Falling Out", the album reaches its climax with the future song of the year, the hopeful-but-guarded "Putting the Dog to Sleep". The live version of "Dog" (streaming below) is an affirmation and was a exclamation point for this incredible evening, as the band extended the closing section to a powerful finish.
Burst Apart can still be pre-ordered online and the special packages offer bonuses [HERE].
I recorded this set with the warmer DPA microphones set up at the soundboard area and mixed them with an excellent feed from the board. The Antlers FOH Dan did an excellent job on the mix this evening and the result is a recording with superb sound quality. Enjoy!
Stream "Putting the Dog to Sleep":
Audio clip: Adobe Flash Player (version 9 or above) is required to play this audio clip. Download the latest version here. You also need to have JavaScript enabled in your browser.
This Recording is now available to Download in FLAC and MP3 at Archive.org [HERE].
The Antlers
2011-05-06
The Knitting Factory
Brooklyn, NY USA
Digital Master Recording
Soundboard + Audience Matrix
Soundboard + DPA 4021s > Edirol R-44 (Oade Concert Mod) > 2x 24bit 48kHz wav files > Soundforge (level adjustments, mixdown, set fades) > CDWave 1.95 (tracking) > Flac Frontend (level 7, align sector boundaries) > flac
Recorded and Produced by nyctaper
2011-05-07
Setlist:
[Total Time 1:15:57]
01 I Don't Want Love
02 French Exit
03 Parentheses
04 No Widows
05 [banter]
06 Rolled Together
07 Every Night My Teeth Are Falling Out
08 [banter2]
09 Hounds
10 Corsicana
11 Putting the Dog to Sleep
12 [encore break]
13 Two
14 Wake
If you download this recording from NYCTaper, we expect that you will PLEASE SUPPORT The Antlers, visit their website, and pre-order Burst Apart from their site [HERE].