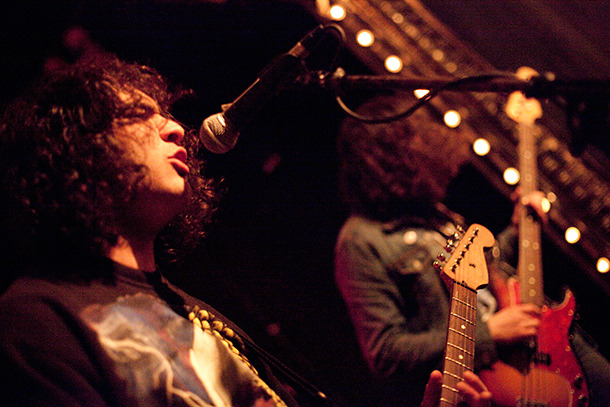 [photo courtesy of Daniel Doherty and Impose Magazine. All Rights Reserved]
A friend recommended that I get to Bowery Ballroom early on Saturday night as to be there when Purling Hiss played their set opening for Kurt Vile. He called it amazing "guitar freakout" music. While Mike Polizze's guitar is certainly the center of the band's sound, Purling Hiss is more of an amalgam of styles — Harvey Milk's sludgecore, Dinosaur Jr's post-punk, and Stooges-style Detroit rock among them. The final result is no-nonsense guitar-oriented rock played at high volume, the higher the better. The set at Bowery featured three tracks from their new 6-song EP Lounge Lizards (Mexican Summer Records), due for release today, June 14. Lizards is the most "produced" of their studio releases, which tend toward the raw and lo-fi techniques. We are not sure whether the cleaner production is a step towards more recognition, but with a band whose live set is as impressive as we saw at Bowery last week, that kind of success is inevitable. Purling Hiss is currently on tour in the Northeast, which will carry them to an appearance at Wilco's Solid Sound Festival from June 24-26.
I recorded this set at our standard balcony rail position with the four microphone rig. Bowery Ballroom has upgraded their soundboard, improving the already-best sounding room in the City. The quality of this recording is superb. Enjoy!
Stream "Almost Washed My Hair":
Audio clip: Adobe Flash Player (version 9 or above) is required to play this audio clip. Download the latest version here. You also need to have JavaScript enabled in your browser.
Direct download of complete show in MP3 files (HERE)
Download the Complete show in FLAC [HERE].
Purling Hiss
2011-06-11
Bowery Ballroom
New York, NY USA
Four-Track Digital Master Recording
Recorded Balcony Railing
Neumann KM-150s + DPA 4021's > Edirol R-44 (Oade Concert Mod) > 2x 24bit 48kHz wav files > Soundforge (level adjustments, mixdown, set fades) > CDWave 1.95 (tracking) > Flac Frontend (level 7, align sector boundaries) > flac
Recorded and Produced by nyctaper
2011-06-14
Setlist:
[Total Time 37:39]
01 [instrumental]
02 Been Teased
03 Run From The City
04 Passenger Queen
05 Voices
06 [new song]
07 The Hoodoo
08 Don't Even Try It
09 Almost Washed My Hair
If you email nyctaper for access to this recording, we expect that you will PLEASE SUPPORT Purling Hiss, visit their Facebook page, and purchase Lounge Lizards from the Mexican Summer website [HERE], and their other releases from Woodsist Records [HERE].