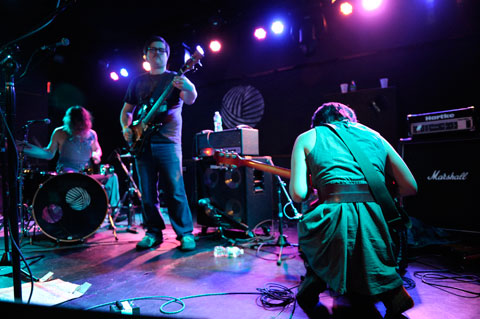 [photo courtesy of Jessica Amaya and Brooklyn Vegan]
The Northside Festival of Brooklyn brought us some amazing music this year and Friday night's Kanine Records Showcase at Knitting Factory was no exception. An incredible line-up of seven bands took the stage that night, including Eternal Summers which played just before headliner Surfer Blood took the stage. We last saw Eternal Summers play a great show at Glasslands earlier this spring, and the crowd was buzzing in anticipation of Friday's show.
Eternal Summers delivered an intense 40-minute set packed with 14 songs of pure energy. For this recording, I parked in our usual sweet spot and recorded the show with a pair of Schoeps hypercardioid microphones. I mixed my tape with a fantastic soundboard feed and hope you enjoy it!
Stream "Pogo":
Audio clip: Adobe Flash Player (version 9 or above) is required to play this audio clip. Download the latest version here. You also need to have JavaScript enabled in your browser.
Direct download of MP3 files [HERE]
Download the Complete show in FLAC [HERE].
Eternal Summers
2011-06-17
Northside Festival
Knitting Factory
Brooklyn, NY USA
Recorded and released for nyctaper.com by hi and lo.
Source: Soundboard + Schoeps MK41/CMR > Naiant PFA > E.A.A. PSP-2 >> Tascam DR-680 @ 24 bit / 96 kHz
Edit : WaveLab v5 (fades/dither/+11dB gain), Izotope SRC/Dither
Final Format : 16 bit, 44.1 kHz
Tracking: CD-Wave v1.98
Encoding: FLAC v1.2.1 (Level 8) with TLH v2.6.0 (Build 168)
Tracklist:
01. Intro
02. Prisoner
03. Cog
04. Running High
05. Able To
06. World's Away
07. [Unknown]
08. Silver
09. I Love You
10. Pogo
11. As Good As You
12. Pure Affection
13. Bully in Disguise
14. Goodnight Goodbye
Running Time: 41:23
Please support Eternal Summers by visiting their their MySpace page and by purchasing their debut album and EPs on iTunes or from the Kanine Records Shop.
A huge thanks to Kanine Records and Eternal Summers for this amazing show!