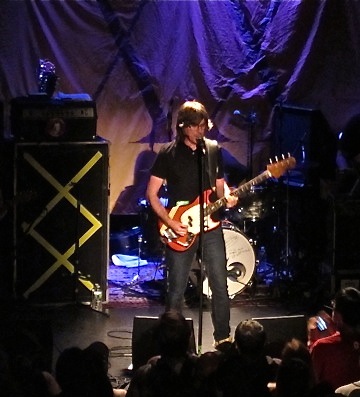 [Photo by acidjack]
I first heard Sloan (probably like a lot of people) on one of those old DGC records CD compilations that the label would put out with one Nirvana song and one Sonic Youth song as a way to get fans to check out their lesser-known acts. Probably the most memorable band on the comp not named Nirvana or Sonic Youth was Sloan, whose debut single "Underwhelmed" from their album Smeared was alternarock perfection. All of the elements of today's band are there – the sturdy riffs, the sweet vocal harmonies that ooze unadulterated fun, all of it catchy as hell. It makes me feel old as hell to think that this Halifax, Nova Scotia band is now celebrating their twentieth year together with this tour and the release of their latest record, The Double Cross (XX, get it?).
They've got a lot to show for those twenty years, too – a discography full of solid records (including the new one), numerous awards and nominations, and perhaps most tellingly, the camaraderie of sharing their entire musical career with this exact same lineup. It's difficult to make any endeavor last as long as this one has; for a rock band, it's almost unheard of.
Taking stock of the scene at Bowery Ballroom on Wednesday night, the fact that this band has held together became a bit less of a mystery. The band have what I like to think (positively) of as a very Canadian quality – they come off onstage as agreeable, pleasant people to be around, almost completely devoid of 'attitude' or posturing. So agreeable, in fact, that they play their instruments democratically, giving different members a turn at different instruments, sharing songwriting as well as vocal duties. They're the kind of band that give you the proud sensation of watching your best friend's band make it big – you feel good for them, and you feel their goodwill for you. It goes almost without saying that the band went above and beyond with their show, delivering a set that blended new songs from The Double Cross with classics from both decades, including what was a highlight for me (having never seen it live), "Gimme That," the straight-ahead pop anthem from 2003's Action Pact. This Wednesday night crowd was as laid back and cool as the band itself, paying attention, partying, and singing along, letting the artists in the room take center stage.
The set went out with a great four-song package of classics, with "People of the Sky" from 1994's Twice Removed, "The Lines You Amend" and "G Turns to D" from 1996's One Chord to Another, and an absolutely killer closer of "Money City Maniacs" from 1998's Navy Blues. I have to admit, I would've loved the nostalgia trip of hearing "Underwhelmed" as interpreted twenty years later, if for no other reason to remind how much I owed that song, and that old DGC compilation, for such a great night.
I recorded this set from my usual location in the venue with the DPA microphones and an analog preamp to give it a warm, natural sound. Combined with the Bowery's upgraded soundboard, the results are absolutely outstanding and one of my best pure audience recordings in that venue. Enjoy!
Stream the complete set:

Direct download of MP3 files [HERE]
Direct download of lossless FLAC files [HERE]
PLEASE DO NOT REPOST THE DIRECT LINKS
Follow acidjack on Twitter
Sloan
2011-06-29
Bowery Ballroom
New York, NY USA
Recorded and produced by acidjack for nyctaper.com
Equipment: DPA 4021>Oade M248>Sony PCM-M10 (24/44.1)
Position: Balcony, LOC, mics at height of engineers
Mastering: 24bit/44.1kHz WAV>Audacity (set fades, tracking, amplify and balance, downsample)>FLAC Level 8
Tracks [Total Time 1:31:52]
01 Follow the Leader>The Answer Was You
02 Unkind
03 The Marquee and the Moon
04 Snowsuit Sound
05 Worried Now
06 Shadow of Love
07 Everything You've Done Wrong>
08 Who Taught You To Live Like That?
09 Gimme That
10 [banter]
11 She's Slowing Down Again
12 Something's Wrong>
13 Traces
14 Sinking Ships
15 It's Plain to See
16 Your Daddy Will Do
17 Don't You Believe A Word
18 I've Gotta Know
19 The Other Man
20 Beverley Terrace
21 Losing California
22 [encore break]
23 People of the Sky
24 The Lines You Amend
25 G Turns to D
26 Money City Maniacs
If you download this recording from NYCTaper, we expect that you will PLEASE SUPPORT Sloan, visit their website, and purchase Sloan's official releases, which are all available via digital download at the website in mp3, apple lossless and FLAC [HERE].