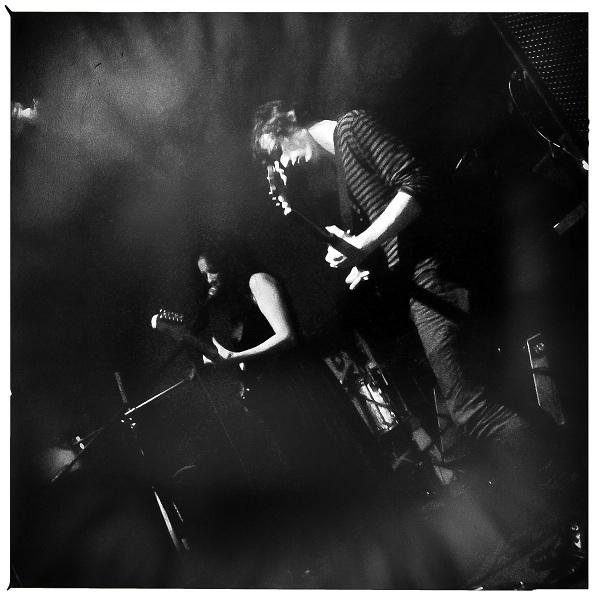 [photos courtesy of Jill and For the Love of Brooklyn]
A Friday night show at Glasslands, setup by PopGun Booking, featured four great bands including Exitmusic, a duo of Aleksa Palladino and Devon Church. This Secretly Canadian band has been on the scene for a number of years, but recently signed to their new label and are slated to release their upcoming EP, From Silence. While we missed Exitmusic during their recent residency at Pianos, the show at Glasslands did not disappoint as they played six songs, two of which we had not heard before. Their first song, "The Sea," filled the room with a complex, layered sound that immediately had the listener fully immersed. By the last song, a seven minute epic titled "Sparks of Light," it was clear that Exitmusic has a captivating sound that will, no doubt, continue to evolve with each live performance.
This set was recorded with a pair of Schoeps Cardioid microphones clamped high on a column dead-center in the room. Derek, Glassland's sound engineer, provided an incredibly well balanced feed which resulted in one of the best mixes I've heard from Glasslands. The sound quality is excellent and we hope you enjoy!
Stream "The Sea"
Audio clip: Adobe Flash Player (version 9 or above) is required to play this audio clip. Download the latest version here. You also need to have JavaScript enabled in your browser.
Direct download of MP3 files [HERE]
Download the Complete show in FLAC [HERE].
Note: All of the material on this site is offered with artist permission, free to fans, at our expense. The only thing we ask is that you download the material directly from this site, rather than re-posting the direct links or the files on other sites without our permission. Please respect our request.
Exitmusic
Glasslands
Brooklyn, NY, US
2011-08-19
Recordist : hi and lo
Source : Soundboard + Schoeps MK5/CMR > EAA PSP-2 >> Tascam DR-680 @ 24 bit / 48 kHz
Encoding : Flac Level 8 with TLH v2.6.0 (Build 168)
Tracklist:
01. The Sea
02. [Unknown]
03. The Hours
04. The Night
05. [Unknown]
06. Sparks of Light
Running Time: 32:05
Please support Exitmusic by visiting their MySpace page and by purchasing their upcoming release, From Silence. A digital download of "The Sea" is available, for free, here.