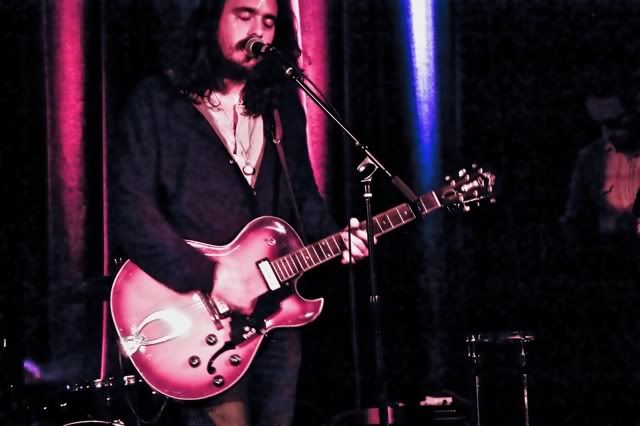 [Photos courtesy of Jill of fortheloveofbrooklyn photoblog]
We have been extolling the virtues of The Loom for three years now, and lately others have followed, including The New York Times, Paste Magazine and The New Yorker. The band has played four shows that we have presented, including most recently our Northside Festival show earlier this Summer. Their set at Northside featured some new material, songs which continue the strength of this band — harmonies, superb instrumentation, and fine songwriting. We were heartened to learn that The Loom should be announcing some exciting news in the near future that will assure a wider audience for them and finally see the release of Teeth, their first full-length record and an album that will cement their position among the best of today's Americana music. We have selected "The Middle Distance" to stream below. At Public Assembly it was an energetic performance of one of the best tracks from Teeth. The Loom will next be performing at the Daytrotter Barnstorming tour that will come to upstate Ghent New York later this month.
I recorded this set with the DPA microphones mounted above the soundboard room, and mixed it with a board feed. The sound quality is excellent. Enjoy!
Stream "The Middle Distance":
Audio clip: Adobe Flash Player (version 9 or above) is required to play this audio clip. Download the latest version here. You also need to have JavaScript enabled in your browser.
Direct download of complete show in MP3 files (HERE)
Download the Complete show in FLAC [HERE].
The Loom
2011-06-19
Public Assembly
Brooklyn, NY USA
Digital Master Four-Track Recording
Soundboard + Audience Matrix
Soundboard + DPA 4021s > Edirol R-44 (Oade Concert Mod) > 2x 24bit 48kHz wav files > Soundforge (level adjustments, mixdown, set fades) > CDWave 1.95 (tracking) > Flac Frontend (level 7, align sector boundaries) > flac
Recorded and Produced by nyctaper
2011-08-03
Setlist:
[Total Time 30:37]
01 Snowed In
02 Song for the Winter Sun
03 The Middle Distance
04 Like Lamp Glow
05 For the Hooves that Gallop
06 Morning Song / Mountain Song
If you download this recording from NYCTaper, we expect that you will PLEASE SUPPORT The Loom, visit their website, purchase their official releases from the links at their site, and keep an eye out for their new album.