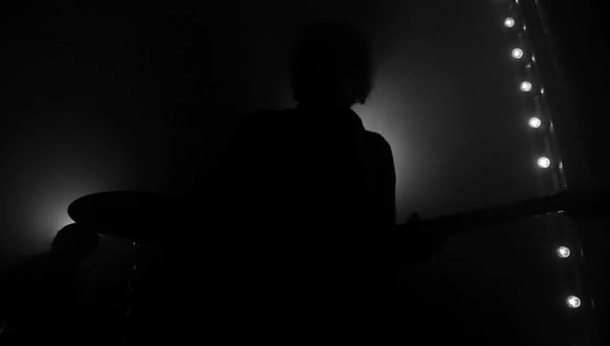 [still from this video]
New York crowds are notoriously, almost epically jaded. As much as bands love the exposure of America's largest city and cultural capital, they also tend to be dispirited by the "show me" attitude of crowds that have seen it all before. Being from Brooklyn themselves, The Psychic Paramount must know this all too well – which is why they pulled out all the stops at Union Pool on a recent Tuesday night to deliver a jaw-dropping set that was one of the most incredible I have seen this year. Cloaked for the duration in thick billows of smoke, their set, culled primarily from their latest release, II, left the crowd in awe at the vortex of sound coming from this three-man band. I don't know that I have been to another show this year that had as many audience members actually talking about the show when it was over – and stark silent during. These instrumental songs seethe with emotion; even staring into shadows in the smoke, you can't help but be moved by them. It doesn't hurt, of course, that they are rendered by players of obvious talent and technical skill – bassist Ben Armstrong and guitarist Drew St. Ivany first met in the now-defunct art-noise-jazz band Laddio Bolocko, a less rock n' roll but no less compelling outfit, and drummer Jeff Conaway is (as in most three pieces) the glue that gives the band its propulsive, driving sound. Bands like TPP are the artists that live shows were made for – even this fine recording cannot capture their brilliance. Mark your calendars, folks – their next show is September 3 right here in Brooklyn at a free show at the Aviator Sports Complex with White Hills, Pictureplane, Wise Blood and others, and after that, our friends in the UK can catch them at the always-legendary ATP Nightmare Before Christmas. Do it. They'll blow your mind.
I recorded this set with both the DPA microphones set up in our usual spot in the venue, and a soundboard feed. At the band's request, only the microphone portion is being used, as they felt it provided a more natural, balanced sound. Enjoy!
Special thanks to Will of Union Pool for having us, and Devin for the soundboard feed and stellar house mix!
Stream "Ddb":
Audio clip: Adobe Flash Player (version 9 or above) is required to play this audio clip. Download the latest version here. You also need to have JavaScript enabled in your browser.
Direct download of MP3 files [HERE]
Download the Complete show in FLAC [HERE].
Follow acidjack on Twitter
The Psychic Paramount
2011-07-27
Union Pool
Brooklyn, NY USA
An acidjack master recording
Recorded and produced by acidjack for nyctaper.com
Equipment: DPA 4021>Oade M248>Edirol R-44 [Oade Concert Mod]
Position: Balcony, DFC, ORTF
Mastering: 24bit/48kHz WAV>Audacity (set fades, tracking, smooth peaks, amplify and balance)>FLAC Level 8
Tracks [Total Time 44:08]
01 Intro/Sp
02 Ddb
03 N6>Isolated
04 X-Visitations
05 Gamelan
PLEASE SUPPORT The Psychic Paramount, visit their website, and buy II directly from No Quarter records [HERE]