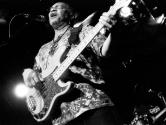 [Photo by Jill for fortheloveofbrooklyn]
NOLA's legendary Funky Meters, the successor to the even-more-legendary Meters, put on one of their now-regular multi-night stands at Brooklyn Bowl earlier this month, and this Wednesday night show was a standout.  While the band's shows back in February faced some hiccups, the band was fully on point this night as they delivered an almost two-hour set of nearly-continuous music.  Along with NOLA classics from themselves, the Meters, Allen Touissant and others, the band showed their virtuosity with rock n' roll as well, with numbers like the opening "Down By the River" (Neil Young) and the Dylan classic "Rainy Day Women #12 & 35", stretched into a 7-minute funk number.  "Just Kissed My Baby," which we had seen covered by Soulive at this very venue earlier this year, was positively on fire, but with apologies to that fine band, the (almost) original blew the newcomers out of the water.  As the best shows at this venue tend to, this one got the dance floor packed and the brews and good times flowing.  Sure, we were a long way from the Treme – but at least the Funky Meters could make us feel a little closer.
hi and lo, Johnny Fried Chicken Boy and I recorded this set with six high-end microphones and preamps from a close-up spot in the venue. The sound is excellent.  Enjoy!
Stream "Rainy Day Women #12 & 35 [Bob Dylan]":
Audio clip: Adobe Flash Player (version 9 or above) is required to play this audio clip. Download the latest version here. You also need to have JavaScript enabled in your browser.
Stream  "Fire On the Bayou":
Audio clip: Adobe Flash Player (version 9 or above) is required to play this audio clip. Download the latest version here. You also need to have JavaScript enabled in your browser.
Direct download of the complete show in MP3 [HERE]
Direct download of the complete show in FLAC [HERE]

If either of the links are no longer working, email nyctaper with a request for the download location of the files.
Follow acidjack on twitter
Note: All of the material on this site is offered with artist permission, free to fans, at our expense.  The only thing we ask is that you download the material directly from this site, rather than re-posting the direct links or the files on other sites without our permission.  Please respect our request.
Funky Meters
2011-09-14
Brooklyn Bowl
Brooklyn, NY USA
Recorded by hi and lo, Johnny Fried Chicken Boy and acidjack for nyctaper.com
Produced by acidjack and Johnny Fried Chicken Boy
Schoeps MK5>littlebox + DPA 4021>Sound Devices MixPre + Schoeps MK41>CMC6>Sound Devices USBpre2 >> Tascam DR-680 > 3x24bit/48kHz WAV > Audition (mixdown, normalize) > FLAC > Audition (tracking) > FLAC ( level 8 )
Position: ROC, miss at 15ft, DPAs and MK41s PAS, MK5 DIN
Tracks
[Total time: 1:53:23]
01. intro
02. Down by the River [Neil Young]
03. Sing a Simple Song [Sly Stone]
04. Rainy Day Women #12 & 35 [Bob Dylan]
05. Good Morning Little Schoolgirl [Sonny Boy Williamson]
06. Iko Iko [James "Sugar Boy" Crawford / The Dixie Cups]
07. No More Okey Doke
08. Just Kissed My Baby
09. He Bite Me
10. Fire on the Bayou
11. I Walk on Guilded Splinters [Dr. John]
12. Marie Laveau [Bobby Bare]
13. Hoochie Coo
14. Africa
15. Africa outro / Cissy Strut intro
16. Cissy Strut
17. Get Out of My Life, Woman [Allen Toussaint]
18. Big Chief [Earl King / Wardell Quezergue]
19. Big Chief Got a Golden Crown [George Landry / The Wild Tchoupitoulas]
20. Ride Yu Donkey [The Tennors] (> Shake, Rattle and Roll tease [Charles E. Calhoun])
If you enjoy this recording, PLEASE SUPPORT The Funky Meters, visit their website, and purchase their records from their online store [HERE]