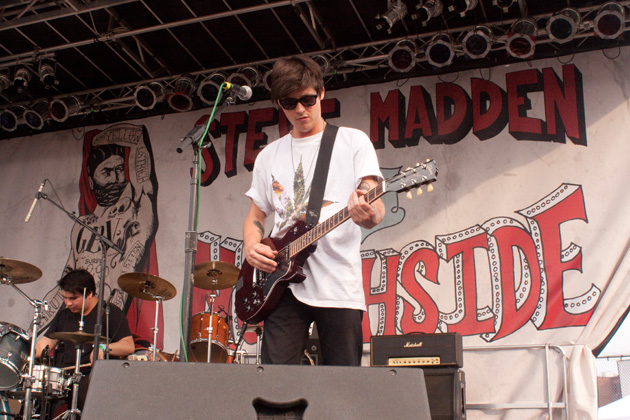 [Photo courtesy of MaryAnne Ventrice]
We have covered Wavves from the very beginning — their first NYC show at Market Hotel was featured on NYCTaper. Their sets at Mercury, Bowery, and Knitting Factory followed, and this Summer we were fortunate to capture Nathan Williams' latest incarnation of the band at McCarren Park in front of 5000 people in a set opening for Guided By Voices as part of the Northside Festival. While the crowd was a mix of younger Wavves fans, local Williamsburg music fans, and folks who undoubtedly were old enough to have seen GBV in the 90s, Wavves did get a pretty universal positive reception. The set consisted primarily of straightforward and tight renditions of the material from the first two albums. At its best, Wavves is the kind of power punk that even grizzled music fans like the GBV faithful can appreciate, and apparently did, as Wavves set went off without a single indication of impatience for the much anticipated headliner. Nathan and Wavves have parted company with Fat Possum Records, and will release a self-distributed EP in two weeks, entitled Life Sux.
We recorded this set with the Neumann microphones mounted dead center in front of the soundboard about 50 feet from the stage, and mixed with a finely mixed soundboard feed. The sound quality is excellent. Enjoy!
Stream "Linus Spacehead":
Audio clip: Adobe Flash Player (version 9 or above) is required to play this audio clip. Download the latest version here. You also need to have JavaScript enabled in your browser.
Direct download of complete show in MP3 files (HERE)
Download the Complete show in FLAC [HERE].
Note: All of the material on this site is offered with artist permission, free to fans, at our expense. The only thing we ask is that you download the material directly from this site, rather than re-posting the direct links or the files on other sites without our permission. Please respect our request.
Wavves
2011-06-18
McCarren Park
Brooklyn, NY USA
Digital Master Recording
Soundboard + Audience Matrix
Soundboard + Neumann KM-150s > Edirol R-44 (Oade Concert Mod) > 2x 24bit 44.1kHz wav file > Soundforge (dither, level adjustments, mixdown, set fades) > CDWave 1.95 (tracking) > Flac Frontend (level 7, align sector boundaries) > flac
Recorded by nyctaper and acidjack
Produced by nyctaper
2011-09-06
Setlist:
[Total Time 37:17]
01 Friends Were Gone
02 Idiot
03 Wavves
04 King of the Beach
05 Linus Spacehead
06 No Hope Kids
07 Super Soaker
08 So Bored
09 Green Eyes
10 Bug
11 [banter]
12 Take On The World
13 To the Dregs
14 Post Acid
If you email nyctaper for access to this recording, we expect that you will PLEASE SUPPORT Wavves, visit their website, and purchase their first two releases from Fat Possum Records [HERE], and preorder their new EP Life Sux (due on September 20) [HERE].