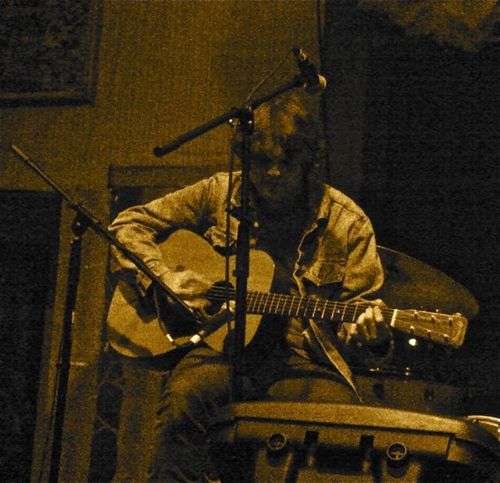 [Photo by acidjack]
It seems about right to refer to William Tyler as an indie rock prodigy. Back when most guys his age were gawky college freshmen, the Nashville native was already playing with Lambchop. By age 21, he'd appeared on a Silver Jews record; two years later, he was laying down tracks with Will Oldham and Bonnie "Prince" Billy. Today he plays solo, as well as gigs with Lambchop, and he also has his own record label, Sebastian Speaks. In the somewhat rarified world of solo guitar players, Tyler is one of the most gifted and most recognizable for both his relative youth and his intense, uncharacteristic style. In giving his 2010 release, Behold the Spirit a "Best New Music"-worthy rating, Pitchfork's Grayson Currin described Tyler's style thus:
"Lambchop's oeuvre should give you some hint as to what makes Tyler special. Just as Lambchop's pan-American indie incorporates soul, rock, country and outsider music into one weirdly warped mold, Tyler integrates a dozen different approaches. He's as comfortable with an electric as an acoustic, as accomplished conducting a long, coruscated drone as he is gliding through fingerpicked hymns. The English folk of Pentangle and the American hum of Tom Carter are clear references, as are Indian ragas and Appalachian ballads. Unlike the work of fellow polyglot Sir Richard Bishop, though, Tyler engages all of those muses at once, consistently folding them into surprising revelations."
This PopGun Booking-sponsored show at Glasslands found Tyler dazed from coming straight from his flight but nonetheless ready to play and share new songs. The set featured only two Behold the Spirit numbers – "Missionary Ridge" and "Tears and Saints" – interspersed with new songs, classics and some hilarious storytelling (if you're ever planning to play in Schwarzenburg, Germany, you might want to listen to Track 5 of this recording first). After playing the first three songs acoustic, Tyler switched to the electric for the final two numbers, including a 12-minute number from his 2008 record Deseret Canyon entitled "Crystal Palace, Sea of Glass". Behold the Spirit is a lovely offering, even for those who may not be into many solo guitar albums, but seeing Tyler live is an entirely more elevated experience, a chance to grasp not just the what but the how of a great player like him.
I recorded this set with a soundboard feed provided by Josh, the house engineer of Glasslands, with some room ambiance from Schoeps MK22 "open cardiod" microphones. The sound quality is excellent. Enjoy!
Stream "Tears and Saints"

Audio clip: Adobe Flash Player (version 9 or above) is required to play this audio clip. Download the latest version here. You also need to have JavaScript enabled in your browser.
Direct download of MP3 files [HERE] | Direct download of the FLAC files [HERE].
Follow acidjack on twitter
William Tyler
2011-11-16
Glasslands
Brooklyn, NY USA
An acidjack master recording
Recorded and produced by acidjack for nyctaper.com
Soundboard + Schoeps MK22>CMC6>littlebox >> Edirol R-44 [Oade Concert Mod]>2x24bit/48kHz WAV>Audition (mix down, effects, limiting, levels)>Audacity (set fades, tracking, amplify and balance)>FLAC ( level 8 )
Tracks
01 Missionary Ridge
02 Waltz of the Circassian Beauties
03 [banter]
04 Terrace of the Leper King
05 [banter]
06 Tears and Saints
07 [banter]
08 Crystal Palace, Sea of Glass
If you enjoyed this recording, PLEASE SUPPORT William Tyler, visit his website, and purchase Behold the Spirit from Amazon or your favorite retailer.