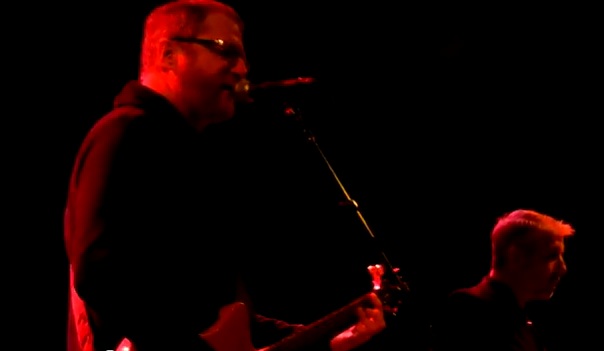 [screen cap from this youtube video]
Camper Van Beethoven has an extensive catalog dating back almost thirty years to their early 80s formation, which permits the band to play divergent setlists on any given night. But CVB has not released a new album since 2004's brilliant New Roman Times. So it was a bit of a surprise to hear that Camper has three new fully formed songs that have been played on each night of the current tour, including Saturday night at Highline Ballroom. Of the three, the most impressive was "Too High For The Love-In", a very Camper-like irreverent and catchy song that we're streaming below. The balance of the set consisted of a variety of classics culled democratically from each of their albums. The set ended in high form with an energetic take on "Pictures of Matchstick Men" that we are also streaming below. The current tour ended last night in Boston, but Camper Van Beethoven returns to the East coast for another "Camp-Out" Fest, this time at the 40 Watt Club in Athens GA from March 1 through March 3.
I recorded this set with the Neumann microphones set up at the front right corner of the soundboard and mixed with an outstanding stereo board feed. The sound quality is superb. Enjoy!
The Cracker set was also recorded and will be posted in the coming days.
Stream "Too High For The Love-In":
Audio clip: Adobe Flash Player (version 9 or above) is required to play this audio clip. Download the latest version here. You also need to have JavaScript enabled in your browser.
Stream "Pictures of Matchstick Men":
Audio clip: Adobe Flash Player (version 9 or above) is required to play this audio clip. Download the latest version here. You also need to have JavaScript enabled in your browser.
This recording is now available for direct download in FLAC or MP3 at Archive.org [HERE].
Note: All of the material on this site is offered with artist permission, free to fans, at our expense. The only thing we ask is that you download the material directly from this site, rather than re-posting the direct links or the files on other sites without our permission. Please respect our request.
Camper Van Beethoven
2012-01-14
Highline Ballroom
New York, NY USA
Digital Master Recording
Soundboard + Audience Matrix
Soundboard + Neumann KM-150s > Edirol R-44 (Oade Concert Mod) > 2 x 24bit 48kHz wav files > Soundforge (level adjustments, set fades, downsample) > CDWave 1.95 (tracking) > TLH > flac (320 MP3 and Tagging via Foobar)
Recorded by nyctaper and Johnny FCB
Produced by nyctaper
2012-01-15
Setlist:
[Total Time 1:06:03]
01 All Her Favorite Fruit
02 Sweethearts
03 Tania
04 Summer Days
05 O Death
06 Eye of Fatima Part 1
07 Eye of Fatima Part 2
08 You've Got to Roll
09 Sad Lovers Waltz
10 Tina
11 Ambiguity Song
12 Take the Skinheads Bowling
13 Balalaika Gap
14 The Poppies of Balmorhea
15 Too High For The Love-In
16 [banter – rock operas]
17 Seven Languages
18 Pictures of Matchstick Men
If you download this recording from NYCTaper, we expect that you will PLEASE SUPPORT Camper Van Beethoven, visit their website, and purchase their official releases directly from the store at their website [HERE].