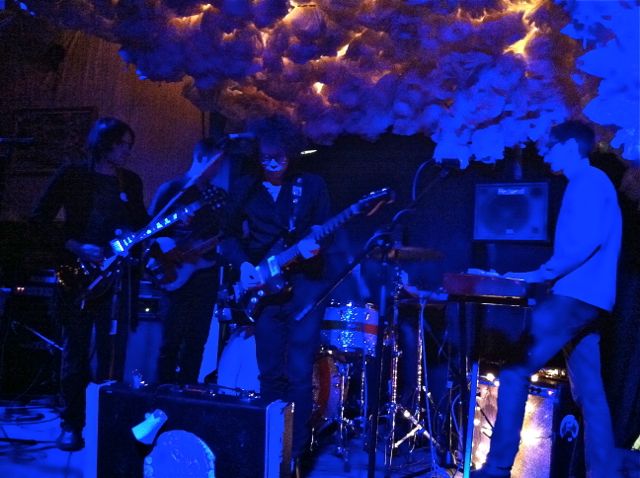 [Photos by acidjack]
The Phantom Family Halo deserve your attention – and they've already gotten their fair share.  Last year's The Mindeater EP with Bonnie "Prince" Billy, another artist with some Louisville roots, earned them mention in the New York Times and beyond.  Bandmember Dom Cipolla also participated in another high-profile collaborative affair recently when he contributed to a live session at Joe's Pub that covered Brian Eno's Here Come the Warm Jets.  This Monday night show at Glasslands, however, was dedicated to the band's own material, in particular their forthcoming release When I Fall Out, due out on Knitting Factory Records on Valentine's Day.  You can stream the studio version of one of the album tracks, "White Hot Gun", here, and the live version from this show below.
This show found the band tearing through what should be a large portion of the new record, and in fine form while doing it.  With a sound that straddles the divide between psych rock and British metal, Phantom Family Halo put on a sonic assault of a rock show that isn't just a display of the power of their effects pedals or ability to noodle on their instruments.  Rather, their songs are often tightly wound and forcefully delivered.  With members of Sapat and The For Carnation among the players, it's as if Phantom Family Halo takes some cues from those acts, but with the energy turned to eleven.  This fairly short set felt a bit like a preview of what to expect when the record drops – so lucky for you, they have a record release show set for February 11 at the up-and-coming Greenpoint venue Saint Vitus, where they will be joined by our good friends The Loom.
I recorded this set with DPA microphones from our usual spot in the venue, plus a soundboard feed from the Glasslands FOH team.  The results are excellent. Enjoy!
Stream "White Hot Gun"
Audio clip: Adobe Flash Player (version 9 or above) is required to play this audio clip. Download the latest version here. You also need to have JavaScript enabled in your browser.
Direct download of MP3 files [HERE] | Direct Download of the FLAC files [HERE]
Follow acidjack on twitter
Note: All of the material on this site is offered with artist permission, free to fans, at our expense. The only thing we ask is that you download the material directly from this site, rather than re-posting the direct links or the files on other sites without our permission. Please respect our request.
The Phantom Family Halo
2012-01-16
Glasslands
Brooklyn, NY USA
Digital Master Recording hosted exclusively at NYCTaper.com
Recorded and produced by acidjack
DPA 4021>Naiant littlebox + SBD >> Edirol R-44 [Oade Concert Mod]>2x24bit/48kHz WAV>Audacity (mixdown, set fades, tracking, amplify and balance, downsample)>FLAC ( level 8 )
Tracks
01 The Fall Out
02 White Hot Gun
03 Dirty Blade
04 Light Year Girl
05 Above My Head
06 Lightning On Your Face
07 The Fall Out (Suite)
08 Vital Energy
If you enjoyed this recording, PLEASE SUPPORT The Phantom Family Halo, like them on Facebook, and pre-order The Fall Out and buy their other official releases from Knitting Factory Records [HERE]