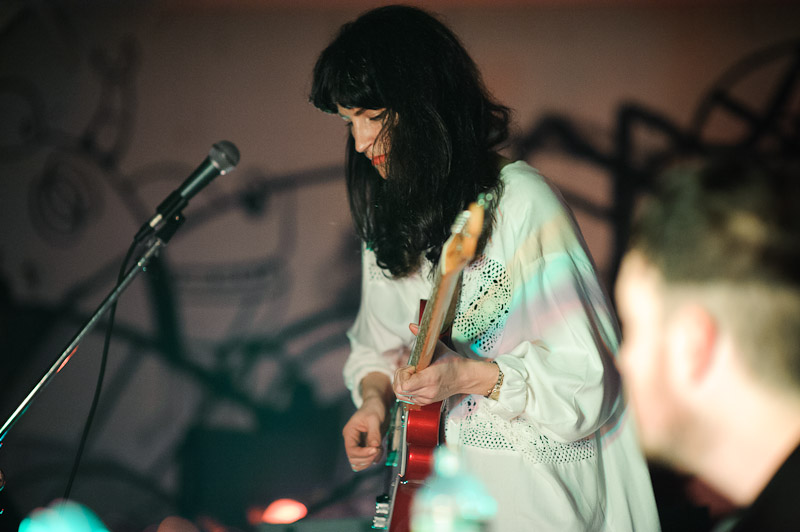 [photo courtesy of Dominick Mastrangelo]
Captured Tracks is on quite an impressive run. The label began as a small Brooklyn boutique a couple of years ago — "CT-01" is the Dum Dum Girls EP Yours Alone. Even at slightly more than 100 actual releases, Captured Tracks has managed to nurture some of the brightest bands around these days, including Widowspeak, Wild Nothing, Hoop Dreams and Beach Fossils. Another superb Captured Tracks discovery was on display at 285 Kent last week. Blouse is a quartet from Portland whose debut album was released in late 2011 on the label. The album has a transformational feeling — its as if I'm driving late at night listening to WLIR or WHFS in 1985 and song after song of new Factory Records artists are being played. The guitar work, keyboards and lead bass are all heavily influenced by such period sounds as New Order, Cocteau Twins and Siouxsie. At 285, the band performed a tight forty-minute set that consisted of nearly the entire album and their debut single. In the live setting, Blouse retained the influences but the overall sound is more raw and less atmospheric than the album. In a way, this was an opportunity for the songs themselves to shine and the band's talent to be featured. Blouse rose to the occasion and clearly this is a band with much potential and the chops to realize it. And they've picked the right label to make it happen.
I recorded this set with the DPA cardioid microphones mounted on a pole 10 feet from the stage, and mixed it with a feed from the soundboard. Overall, the instrumental mix is pretty solid, although the vocals are occasionally buried in the effects. With that caveat, enjoy!
Blouse will perform at the Captured Tracks Showcase at SXSW on March 17. The Facebook page for that event is [here].
Stream "Into Black":
Audio clip: Adobe Flash Player (version 9 or above) is required to play this audio clip. Download the latest version here. You also need to have JavaScript enabled in your browser.
Direct download of complete show in MP3 files (HERE)
Download the Complete show in FLAC [HERE].
Note: All of the material on this site is offered with artist permission, free to fans, at our expense. The only thing we ask is that you download the material directly from this site, rather than re-posting the direct links or the files on other sites without our permission. Please respect our request.
Blouse
2012-01-31
285 Kent
Brooklyn, NY USA
Digital Master Recording
Soundboard + Audience Matrix
Soundboard + DPA 4021s > Edirol R-44 (Oade Concert Mod) > 24bit 48kHz wav file > Soundforge (level adjustments, set fades, downsample) > CDWave 1.95 (tracking) > TLH > flac (320 MP3 and Tagging via Foobar)
Recorded and Produced
by nyctaper
2012-02-04
Setlist:
[Total Time 40:02]
01 Controller
02 Shadow
03 Time Travel
04 Firestarter
05 White
06 They Always Fly Away
07 Fountain in Rewind
08 Videotapes
09 Into Black
If you email nyctaper for access to this recording, we expect that you will PLEASE SUPPORT Blouse, visit their website, visit their artist page at the Captured Tracks website, and purchase their debut album from the Captured Tracks website [HERE].