[Photos by acidjack]
I suppose one could fairly accuse this site of not featuring enough heavy music.  There are several reasons for that, not least being that a lot of "metal" bands aren't into being recorded.  But here's to hoping that changes, especially since Brooklyn has had a vibrant metal scene going for quite awhile now, as chronicled by BrooklynVegan among few "indie" sites that acknowledge metal even exists.  Naam are one of the first bands that made me realize such a gap existed in our coverage, when I saw them open for Om a few years ago.  Naam absolutely slayed then, and they have only gotten better since, combining bad-ass guitar chops with a psychedelic sensibility that makes them a crossover beyond only dedicated headbangers.  This show at Music Hall of Williamsburg found the band opening again, this time for stoner metal mavens Monster Magnet.  The amps and stacks were cranked this evening, and Naam made the most of them over a series of four blistering tracks, including two from their eponymous debut on TeePee Records.  I admit, I was also hoping to hear "Drain You" or "Pennyroyal Tea", both of which appear on their Nirvana Covers 7″ – but maybe next time.  I hope this is but one of many heav(ier) shows I cover in the fine year of 2012!
JFCB and I recorded this set with tiny DPA 4061 microphones that captured the full range of the band's sonic assault.  The recording is dense, upfront and excellent. Enjoy!  Note: any setlist help would be appreciated!
Stream "Kingdom"
Audio clip: Adobe Flash Player (version 9 or above) is required to play this audio clip. Download the latest version here. You also need to have JavaScript enabled in your browser.
Direct download of MP3 files [HERE] | Direct Download of the FLAC files [HERE]
Follow acidjack on twitter
Note: All of the material on this site is offered with artist permission, free to fans, at our expense. The only thing we ask is that you download the material directly from this site, rather than re-posting the direct links or the files on other sites without our permission. Please respect our request.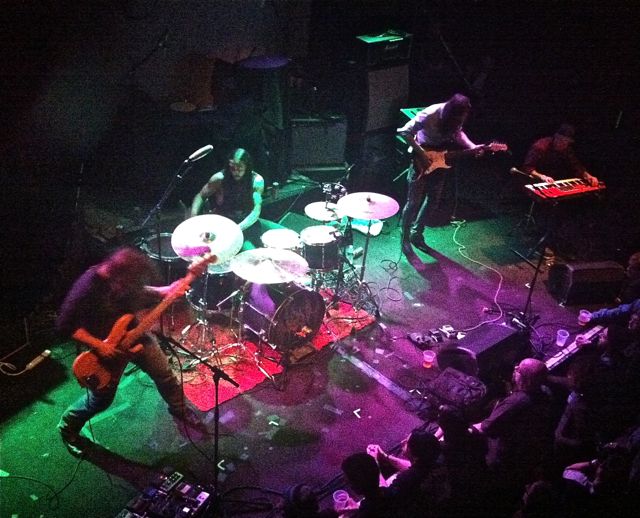 Naam
2012-01-13
Music Hall of Williamsburg
Brooklyn, NY USA
Recorded by acidjack and Johnny Fried Chicken Boy
Produced by acidjack
for NYCTaper.com
DPA 4061>CA-UBB>Edirol R-05 (24/48)>Audacity (mixdown, set fades, tracking, amplify and balance, downsample)>FLAC ( level 8 )
Tracks [setlist help would be much appreciated]
01 Skyling Ship
02 Starchild (pt 1)
03 Starchild (pt 2)
04 Icy Row
05 Kingdom
If you enjoyed this recording, PLEASE SUPPORT Naam, visit their MySpace page, follow them on Twitter, and purchase their debut album from TeePee records [HERE]