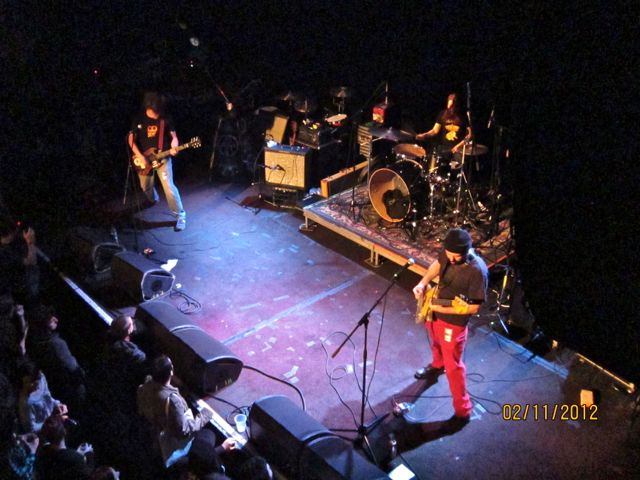 [Photos by acidjack]
Going on first is never easy, so I was pleasantly surprised to see such a crowd out for Black Wine.  Opening the Don Giovanni Records showcase last month at Music Hall of Williamsburg, the band played their opening slot with massive enthusiasm that was rewarded with a rapidly growing crowd.  They also had a bit of an advantage.  With a sometimes-melodic punk sound (an oxymoron people used to rationalize with the word "emo", which I'll opt not to) that suggests echoes of the members' most recent engagements in the New Brunswick, NJ scene – For Science, the Ergs and Hunchback – these musicians each have a fan base that stretches back into the 1990s.  Composed of the husband and wife team of guitarist Jeff Schroeck and drummer Miranda Taylor, together with Jason Nixon on bass, this team of veterans handles the vocal duties democratically onstage, with the focus shifting among players onstage as each takes a turn at the mic.  While this means their songs vary a bit more between each other than those of some bands, it also keeps things interesting, as a Taylor song will tend to have a very different feel to it than one from one of the men.  Their songs have a focused, professional feel that befits long-time musicians, perhaps most notably for me on their leadoff track "Through the Foam", which was an immediate crowd-pleaser.  As bands like the Screaming Females and Gaslight Anthem continue to raise their profile in NYC, other New Brunswick bands like Black Wine are likely to see an increased profile for the north/central Jersey scene.  And they ought to – they're making very good music there.
We recorded this set with Neumann KM150 microphones into a Sound Devices preamp to provide maximum clarity to the guitars and vocals.  The sound is excellent.  Enjoy!
Stream "Through the Foam"
Audio clip: Adobe Flash Player (version 9 or above) is required to play this audio clip. Download the latest version here. You also need to have JavaScript enabled in your browser.
Direct download of MP3 files [HERE] | Direct Download of the FLAC files [HERE]
Note: All of the material on this site is offered with artist permission, free to fans, at our expense. The only thing we ask is that you download the material directly from this site, rather than re-posting the direct links or the files on other sites without our permission. Please respect our request.
Black Wine
2012-02-11
Music Hall of Williamsburg
Brooklyn, NY USA
Exclusive download hosted at nyctaper.com
Recorded and produced by acidjack
Neumann KM150 (balcony, DFC)>Sound Devices USBPre2>Edirol R-44 [Oade Concert Mod]>24bit/48kHz WAV>Audacity (set fades, tracking, amplify and balance, downsample)>FLAC ( level 8 )
Tracks
01 Through The Foam
02 Favorites
03 End Of Days
04 [New Song]
05 Hand
06 Pick At Pieces
07 Chateau Of Ghosts
08 Haunted
If you enjoyed this recording, PLEASE SUPPORT Black Wine, visit their page at Don Giovanni Records, and get their records from their bandcamp page.