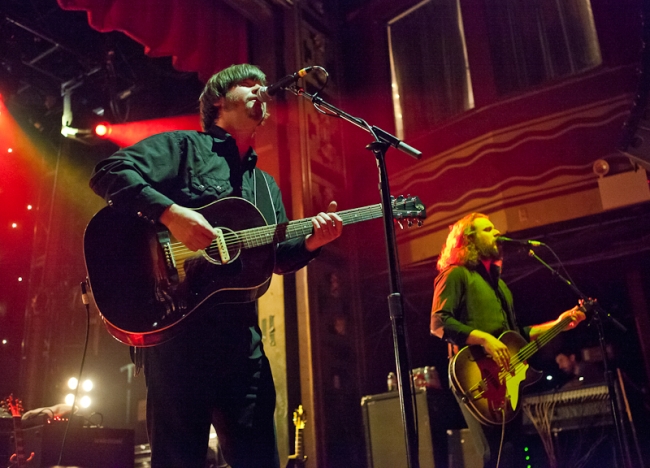 [Photos courtesy of Joe Papeo.  See more of his excellent work at irocktheshot.com.]
It's my understanding that the seeds for the New Multitudes project were first sown as far back as 1995 when alternative-country godfather Jay Farrar (Son Volt, Uncle Tupelo) was tapped to collaborate with Billy Bragg on what would eventually become the 'Mermaid Avenue' album.  After Jay declined, Bragg wound up recruiting Wilco and released two discs of previously unheard lyrics by folk singer Woody Guthrie put to music written by the performers.  Fast forward several more years and Farrar approached the idea again, bringing together a veritable Americana/alt-country supergroup to write music for lyrics that Guthrie wrote during his years in Los Angeles.  Adding Will Johnson (Centro-matic), Anders Parker (Varnaline) and Yim Yames (a.k.a. Jim James of My Morning Jacket), each artist imparts distinct aspects of their styles to the songs but, as a collective whole, they also blend incredibly well together.
With such a roster of talented musicians, I was very excited to see this concert at its stop in New York.  Out of the gate, the group did a straight run-through of the songs off the album, with barely any time for applause between them.  However, rather than being a carbon copy of the disc, the live renditions imbued much more detail and fully realized the interplay and spot-on harmonizing between the members.  It quickly became evident that a few weeks on the road had honed the material beautifully.  It also showcased their versatility, particularly as Will and Anders did a round robin between drums, guitars and vocals.  The next part of the show had each member taking an impressive solo acoustic turn.  Finally, it was everybody back on stage contributing to each other's songs and finishing off the night with one of Woody Guthrie's own compositions, each performer trading off on vocals.  After such an amazing evening, it's a shame that this tour had only a handful of dates.  After New Multitudes' next and last planned outing at the Newport Folk Festival in July, I certainly hope they can find the time for another pass through.
Being set up right behind the soundboard and dead center, the always wonderful sounding Webster Hall once again didn't disappoint us.  Aside from the drums being a bit upfront during the first song, the house mix was excellent and our recording is a very good reflection of that.  We hope you like what you hear as much as we did.  Enjoy!
Stream "Chorine My Sheba Queen":
Audio clip: Adobe Flash Player (version 9 or above) is required to play this audio clip. Download the latest version here. You also need to have JavaScript enabled in your browser.
Stream "Angel's Blues":
Audio clip: Adobe Flash Player (version 9 or above) is required to play this audio clip. Download the latest version here. You also need to have JavaScript enabled in your browser.
Direct download of the complete show in MP3 [HERE]
Direct download of the complete show in FLAC [HERE]

If either of the links are no longer working, email nyctaper with a request for the download location of the files.
Follow Johnny Fried Chicken Boy on Twitter
Note: All of the material on this site is offered with artist permission, free to fans, at our expense.  The only thing we ask is that you download the material directly from this site, rather than re-posting the direct links or the files on other sites without our permission.  Please respect our request.
New Multitudes
(Jay Farrar, Will Johnson, Anders Parker & Yim Yames)
Wednesday, March 14, 2012
Webster Hall
New York, NY, USA
Source: AUD > AKG C 414 B-XLS's + Audio-Technica AT3031's > Edirol R-44 (WAV @ 24-bit/48kHz)
Lineage: R-44 > USB > PC > Adobe Audition (mixdown, downsample, dither, tracking) > WAV (16-bit/44.1kHz) > TLH (check/fix SBE's, FLAC conversion) > FLAC ( level 8 )
Recorded and produced by: Johnny Fried Chicken Boy
SETLIST:
[Total time: 1:57:26]
01. Hoping Machine
02. Fly High
03. My Revolutionary Mind
04. V.D. City
05. Old L.A.
06. Talking Empty Bed Blues
07. Chorine My Sheba Queen
08. Careless Reckless Love
09. Angel's Blues
10. No Fear
11. Changing World
12. New Multitudes
SOLO:
13. banter 1
14. Little Raider  [Will Johnson]
15. banter 2
16. Song  [Anders Parker / Varnaline]
17. Still Be Around  [Uncle Tupelo]
18. banter 3
19. Wonderful (The Way I Feel)  [Jim James / My Morning Jacket]
FULL BAND:
20. Tell It to the Dust  [Anders Parker]
21. Just to Know What You've Been Dreaming  [Will Johnson]
22. Bandages & Scars  [Jay Farrar / Son Volt]
23. The Way That He Sings  [Jim James / My Morning Jacket]
24. Pastures of Plenty  [Woody Guthrie]
If you download this recording, we expect that you will PLEASE SUPPORT New Multitudes and Woody Guthrie and the projects of Jay Farrar, Will Johnson, Anders Parker and Yim Yames, visit the New Multitudes website, visit their Facebook and MySpace pages, and purchase the official release and merchandise [HERE].