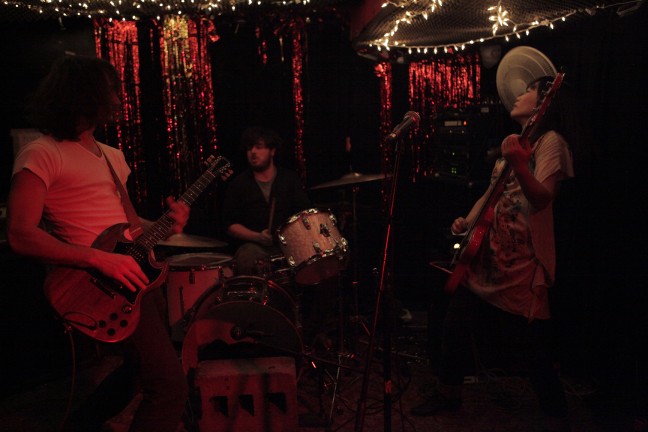 [photo courtesy of Bleary Eyed Brooklyn]
Old Monk is a band from Brooklyn with the perfect self-description — indie-prog. The indie part is easy, as they write energetic and catchy guitar-trio indie-style rock. But the tag of "prog" doesn't get thrown around much here. The time and signature changes, abrupt turns in melody and tendency to cram three songs into one characterize the progressive elements of pop music. Their debut album Birds of Belize has more "indie" than prog, as the songs are shorter and more straightforward. But live, Old Monk stretches it out a bit and the trio's tight instrumentation allows for the twists and turns to flow more naturally. At Cake Shop a couple of weeks back, we caught the final night of Old Monk's month-long February residency. The thirty minute set contain several Belize songs, but also quite a few new songs that indicate that the band isn't shying away from more complicated material. At the show, I gravitated more towards the songs that I knew ("Warm Moustache" is streaming below), but after multiple listenings to this recording, the stronger material is perhaps the new songs that are challenging but ultimately more accomplished. It remains to be seen whether the fickle NYC indie crowd will exercise enough patience to appreciate Old Monk. If they do, they will be rewarded.
I recorded this show with a new method for this venue. The DPA 4021 cardioids were mounted above the stage for an "onstage" recording of the instruments, and the DPA 4061s were mounted in front of the PA speakers for a vocal-heavy signal. The two sources mixed produce a fine balanced recording. Enjoy!
Stream "Warm Moustache":
Audio clip: Adobe Flash Player (version 9 or above) is required to play this audio clip. Download the latest version here. You also need to have JavaScript enabled in your browser.
Direct download of complete show in MP3 files (HERE)
Download the Complete show in FLAC [HERE]
Note: All of the material on this site is offered with artist permission, free to fans, at our expense. The only thing we ask is that you download the material directly from this site, rather than re-posting the direct links or the files on other sites without our permission. Please respect our request.
Old Monk
2012-02-22
Cake Shop
New York, NY USA
Digital Master Recording
DPA 4021s + DPA 4061s > Edirol R-44 (Oade Concert Mod) > 24bit 48kHz wav file > Soundforge (level adjustments, set fades, downsample) > CDWave 1.95 (tracking) > TLH > flac (320 MP3 and Tagging via Foobar)
Recorded and Produced
by nyctaper
2012-02-23
Setlist:
[Total Time 30:30]
01 Butter and Toast
02 Warm Moustache
03 Napoleon's Wife
04 Volcanic Prisons
05 Running Boards/Promethea
06 Art Heist
07 Wimpy Olympians
08 Skullsplitter
09 Attica
If you download this recording from NYCTaper we expect that you will PLEASE SUPPORT Old Monk, visit their website, and purchase Birds of Belize directly from Eenie Meanie Records [HERE]