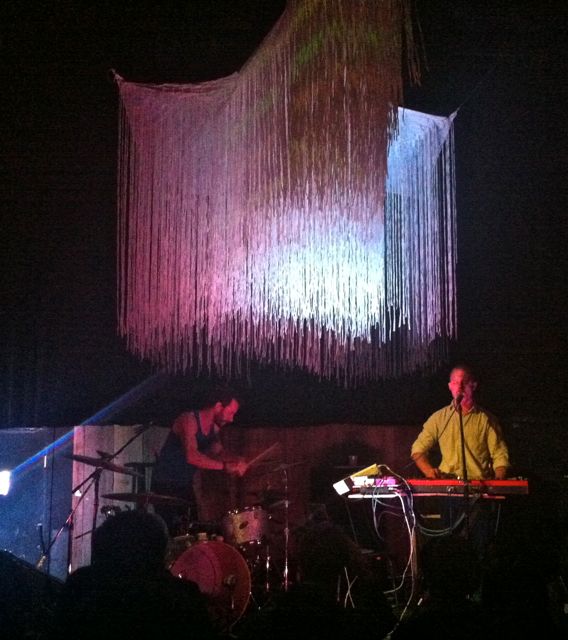 [Photos by acidjack]
AU is not so much a "band" as a single man's vision – that of one Luke Wyland, currently of Portland, OR and previously of Boston. Wyland performs under this moniker in a variety of configurations – with everything from an orchestra to his current setup of just him and drummer Dana Valatka. While AU earns comparisons to bands like Panda Bear and Animal Collective, Wyland's vision is more playful than those contemporaries. His songs give off what a fellow show-goer described as almost a "carnival" vibe at times; they are bombastic, exuberant, and downright fun no matter what your frame of mind.
This show at Cameo Gallery found AU headlining to celebrate the release of Both Lights, the band's new album that was release today on the quirky and flawlessly curated Hometapes. a label that plays home to several of this site's current favorites. AU rewarded a packed house with a set that began with "Ida Walked Away" from the band's record Versions, followed by the steel drum-dominated "rr Vs. D" from Verbs before transitioning to all-new material from Both Lights that wowed the crowd.  That set-within-a-set began with the relentless and appropriately-titled "Get Alive" and transitioned into the more anthemic "OJ". This short set could barely contain all of Wyland's disparate ideas, but it was rewarding to see him wind up with two more extended numbers "Go Slow" and his first single from Both Lights, "Solid Gold". If this crowd was worn out from a four-band bill that ran a bit late, it didn't show. It would have been hard to exhaust AU's endless fountain of ideas with a set twice this long.
I recorded this set in the same manner as the Howth set, with AKG large-diaphragm microphones and an excellent soundboard feed from the Cameo FOH.  The results are also outstanding.  Enjoy!
Stream "Solid Gold"

Audio clip: Adobe Flash Player (version 9 or above) is required to play this audio clip. Download the latest version here. You also need to have JavaScript enabled in your browser.
Stream "OJ"

Audio clip: Adobe Flash Player (version 9 or above) is required to play this audio clip. Download the latest version here. You also need to have JavaScript enabled in your browser.
Direct download of MP3 files [HERE] |  Direct Download of the FLAC files [HERE]
Follow acidjack on twitter
Note: All of the material on this site is offered with artist permission, free to fans, at our expense.  The only thing we ask is that you download the material directly from this site, rather than re-posting the direct links or the files on other sites without our permission.  Please respect our request.
AU
2012-03-29
Cameo Gallery
Brooklyn, NY USA
Exclusive download hosted at nyctaper.com
Recorded and produced by acidjack
AKG C 414 B-XLS (cardiod, ORTF, DFC, FOB)>Sound Devices USBPre2 + Soundboard >> Edirol R-44 [Oade Concert Mod]>2x24bit/48kHz WAV>Audition CS 5.5 (mixdown, adjust levels)>Izotope Ozone 5 (effects, EQ)>Audacity 2.0 (tracking, set fades, downsample to 16/44.1)>FLAC ( level 8 )
Tracks
01 Ida Walked Away
02 RR vs. D
03 [banter]
04 Get Alive
05 OJ
06 Why I Must
07 Go Slow
08 Solid Gold
If you enjoyed this recording, PLEASE SUPPORT AU, visit their website, and purchase Both Lights directly from Hometapes [HERE]