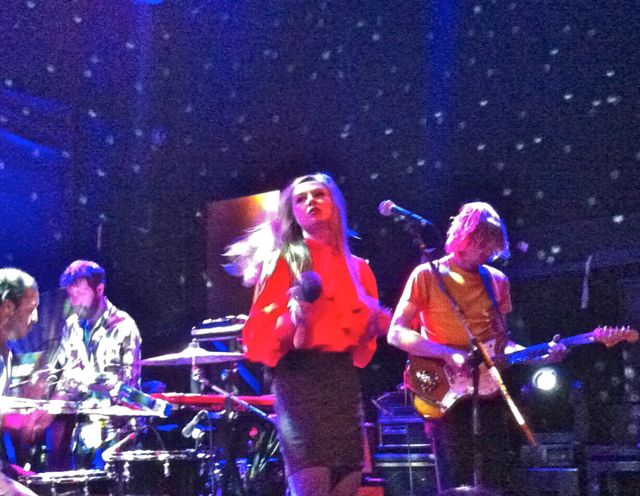 [Photos by acidjack]
Conduits are a new band from the always-punching-above-its-weight music scene of Omaha, Nebraska, and we were fortunate enough to catch them right after the release of their promising self-titled debut on the label Team Love.  Conduits' reference points include many bands I revere – Slowdive, My Bloody Valentine, Lush, Portishead and the underappreciated Irish band Scheer – so I was naturally taken with their sound. Lead singer Jenna Morrison, previously of another beloved Omaha band Son, Ambulance, is a commanding frontwoman and vocalist, with the sort of powerful but ethereal voice that works perfectly with the band's layers of feedback-drenched sound. And far from affecting the distant posture of some of their sonic forebears, Conduits actually perform, again with Morrison and bandmates J.J. Idt (guitar), Nate Mickish (guitar), Mike Overfield (bass, keys), Roger L. Lewis (drums), and Patrick Newbery (synth, keys) sharing the intensity of the moment with the crowd. Knob-twiddlers and shoegazers they ain't – this is a rock n' roll band that, even at a young stage, looked and sounded totally comfortable on the relatively big Bowery stage.  Idt and Mickish, who founded the band, clearly assembled their fellow players wisely.
This opening set at Bowery Ballroom covered four of the eight tracks on Conduits, plus two other songs that were new to me. My personal favorites came back to back – the strong rocker "Blood" and the more dark, atmospheric "Last Dirge". Although the set was brief, it established Conduits as a band to watch. We expect great things in the future.
nyctaper and I recorded this set with a combination of more directional Schoeps MK41 hypercardiod microphones and Sennheiser MKH-8040 cardiods.  While this was not my favorite house mix in this beautiful-sounding room, this remains a great capture and a worthwhile introduction to this band. Enjoy!
Stream "Blood"
Audio clip: Adobe Flash Player (version 9 or above) is required to play this audio clip. Download the latest version here. You also need to have JavaScript enabled in your browser.
Stream "Last Dirge"
Audio clip: Adobe Flash Player (version 9 or above) is required to play this audio clip. Download the latest version here. You also need to have JavaScript enabled in your browser.
Direct download of MP3 files [HERE] | Direct Download of the FLAC files [HERE]
Follow acidjack on twitter
Note: All of the material on this site is offered with artist permission, free to fans, at our expense.  The only thing we ask is that you download the material directly from this site, rather than re-posting the direct links or the files on other sites without our permission. Please respect our request.
Conduits
2012-04-02
Bowery Ballroom
New York, NY USA
Exclusive download hosted at nyctaper.com
Recorded by nyctaper and acidjack
Produced by acidjack
Schoeps MK41>KCY>Z-PFA>SD USBPre2 + Sennheiser MKH-8040 >> Edirol R-44 [Oade Concert Mod]>2x24bit/48kHz WAV>Audition CS 5.5 (mixdown)>Izotope Ozone 5 (EQ, effects)>Audacity (tracking, amplify and balance, downsample to 16bit)>FLAC ( level 8 )
Tracks
01 Top of the Hill>
02 Blood
03 Last Dirge
04 Misery Train
05 The Wonder
06 Crow
If you enjoyed this recording, please support Conduits by liking them on facebook and purchasing Conduits directly from Team Love [HERE]