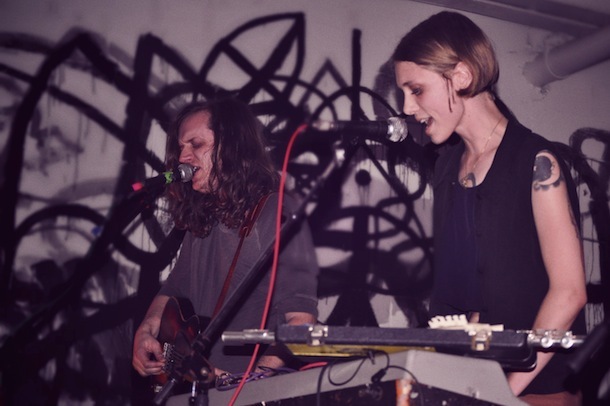 [photo by Terri Nguyen courtesy of Impose Magazine]
One doesn't normally think of Dover New Hampshire as a home for neo-psychedelic rock, but MMOSS is the latest of outstanding purveyor of this genre and they call the "Live Free or Die" state home. When Woods invites a band to tour with them, as they did with MMOSS for a month this Spring, its a pretty good clue to us that the band will be a quality outfit. At 285 Kent a couple of weeks back, it was obvious that MMOSS was the real deal. Our first impression, with the two guitarists flanking a female vocalist/flutist, was their resemblance to the excellent Bardo Pond. And this comparison isn't far off, in terms of the live sound. But MMOSS's album, the superb i, is a collection of psych-garage nuggets. At 285, the band's set featured a couple of shorter songs, but MMOSS did stretch it out for a couple of numbers before the too-short set ended with an extended jam. We are streaming "Kitty Sorrow", a standout track from the album performed to perfection.
I recorded this set in the same manner as those of Woods and Crystal Stilts and the sound quality is excellent. Enjoy!
Stream "Kitty Sorrow":
Audio clip: Adobe Flash Player (version 9 or above) is required to play this audio clip. Download the latest version here. You also need to have JavaScript enabled in your browser.
Direct download of complete show in MP3 files (HERE)
Download the Complete show in FLAC [HERE].
Note: All of the material on this site is offered with artist permission, free to fans, at our expense. The only thing we ask is that you download the material directly from this site, rather than re-posting the direct links or the files on other sites without our permission. Please respect our request.
MMOSS
2012-05-05
285 Kent
Brooklyn, NY USA
Digital Master Recording
Soundboard + Audience Matrix
Soundboard + Sennheiser MKH-8040s > Edirol R-44 (Oade Concert Mod) > 24bit 48kHz wav file > Soundforge (level adjustments, set fades, downsample) > CDWave 1.95 > (tracking) > TLH > flac (320 MP3 and Tagging via Foobar)
Recorded and Produced
by nyctaper
2012-05-10
Setlist:
[Total Time 25:27]
01 Wonder
02 Another Day
03 Another Dream
04 Kitty Sorrow
05 War Sux
If you download this recording from nyctaper, we expect that you will PLEASE SUPPORT MMOSS, visit their Bandcamp and Facebook pages, and purchase their album i from Burger Records.