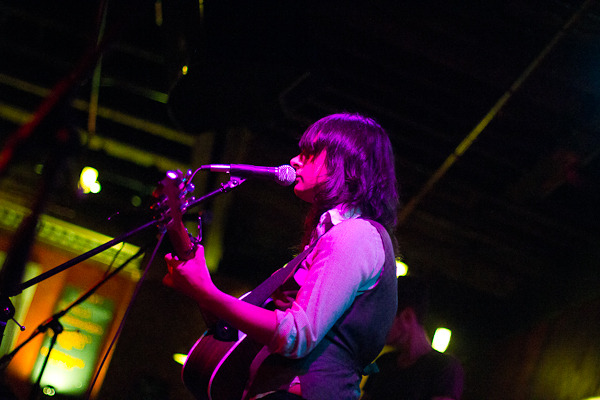 [photo by Eric Groom courtesy of Impose Magazine]
Less than a week after Kevchino and NYCTaper presented Natureboy at Union Pool (here), the band also appeared at the excellent Brain Cave Festival. Natureboy's set at the Bell House that Saturday was one my own personal highlights of the day. The group recently added two new members, who seem to continue to work well with Sara and Cedar. Sara is more confident performing the new material live, and the result was a powerful set that caught the attention of much of the crowd, which began to fill as the day evolved. We did not post this set back in April since we had just posted the Union Pool set, but given the new developments for Natureboy, now is the time. Last week, the band did a brief tour of the Midwest that included a recording session with Daytrotter. Tomorrow night, Natureboy returns to NYC for a show at The Paperbox in Brooklyn (more info here). But the most exciting recent announcement was the residency that Natureboy will play at Pianos. The band plays four consecutive Thursdays beginning on June 7, and the residency includes a healthy dose of special guests. We will certainly be there.
I recorded this set in the same manner as the El Jezel Brain Cave set previously posted and the sound quality is superb. Enjoy!
Stream "Heart To Fool":
Audio clip: Adobe Flash Player (version 9 or above) is required to play this audio clip. Download the latest version here. You also need to have JavaScript enabled in your browser.
Direct download of complete show in MP3 files (HERE)
Download the Complete show in FLAC [HERE].
Note: All of the material on this site is offered with artist permission, free to fans, at our expense. The only thing we ask is that you download the material directly from this site, rather than re-posting the direct links or the files on other sites without our permission. Please respect our request.
Natureboy
2012-04-05
Bell House
Brooklyn, NY USA
Digital Master Recording
Soundboard + Audience Matrix
Soundboard + Sennheiser 8040 Cardioids > Edirol R-44 (Oade Concert Mod) > 2 x 24bit 48kHz wav files > Soundforge (level adjustments, mixdown, set fades) > CDWave 1.95 (tracking) > TLH > flac (320 MP3 and tagging via Foobar)
Recorded and Produced
by nyctaper 2012-05-28
Setlist:
[Total Time 36:13]
01 Pariah
02 A Flame
03 Lexies
04 Blow To The Head
05 Head To Toe
06 Sight To See
07 Heart To Fool
If you download this recording, we expect that you will PLEASE SUPPORT Natureboy, visit their Bandcamp page, and purchase their debut album from Bleek Records [HERE]