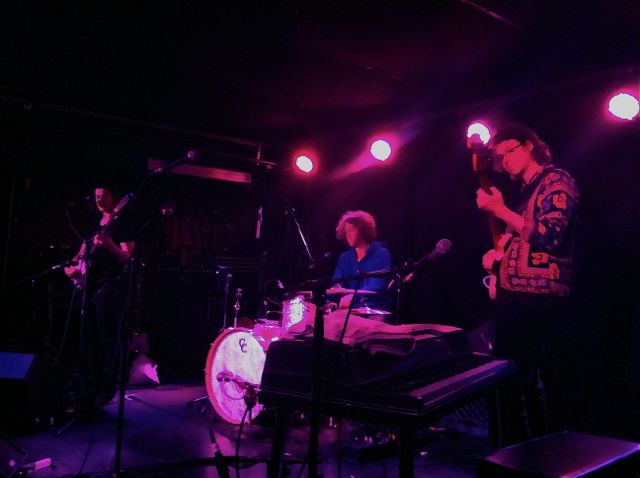 [Not very good iPhone photo by acidjack]
For obvious reasons, we end up promoting a lot of NYC-based bands on this site. But it is always a rare treat to get a chance to share a recording by a band from overseas, particularly one that is new to us. This Is the Kit is a Paris and Bristol, UK-based project of vocalist/guitarist/banjo player Kate Stables that produces a grown-up brand of acoustic, blues-influenced rock of timeless beauty and grace – think of Cowboy Junkies or Sharon Van Etten as a reference point. Her music isn't gimmicky or loud, brash or lo-fi.  This is a type of band that you want to listen to, try and focus on what's being said through the hush (if you're lucky, and there is, in fact a hush). And sure, your Dad might dig it, but that doesn't mean you shouldn't – a great song is a great song, no?
A Mercury Lounge late show can often be a challenge to a band, after the bar has been open a few hours and two other bands have already done their thing. This Is the Kit were opening for Plants and Animals, who themselves had a fairly rowdy crowd. Hearing the opening notes of the spare, magnificent banjo intro of "Easy Pickings", I feared for the worst. But a funny thing happened- the crowd paid attention, throughout a set that showcased several of the band's numbers from Wriggle Out the Restless, a record originally released on the UK imprint Brassland and about to be re-released stateside (you can grab it for a steal on bandcamp right now for $3 or more… I suggest more). Out of a uniformly excellent set, it's hard to pick favorites, but I was partial to the bluesy "rocker" of the group, "Earthquake", the quiet leadoff track "Easy Pickings", and the frenetic cross-rhythms of "Spinney" (currently the free track on the bandcamp page). Each of the songs in this set felt distinct, and the band managed to show a lot of different sides during this short opening performance. The next time they're headlining, I'm there.
I recorded this set in the same manner as the Plants and Animals recording, but the quality of both the house mix and soundboard feed were better for this performance. Given the quiet nature of the set, this recording favors the soundboard feed, and the result is an outstanding and crisp recording.  Enjoy!
Stream "Earthquake"
Audio clip: Adobe Flash Player (version 9 or above) is required to play this audio clip. Download the latest version here. You also need to have JavaScript enabled in your browser.
Stream "Spinney"
Audio clip: Adobe Flash Player (version 9 or above) is required to play this audio clip. Download the latest version here. You also need to have JavaScript enabled in your browser.
Direct download of MP3 files [HERE] |  Direct Download of FLAC files [HERE]
Follow acidjack on twitter
Note: All of the material on this site is offered with artist permission, free to fans, at our expense.  The only thing we ask is that you download the material directly from this site, rather than re-posting the direct links or the files on other sites without our permission. Please respect our request.
This Is the Kit
2012-04-18
Mercury Lounge
New York, NY USA
Exclusive download hosted at nyctaper.com
Recorded and produced by acidjack
Soundboard + Schoeps MK41>CMC6 >> Edirol R-44 [Oade Concert Mod]>2x24bit/48kHz WAV>Adobe Audition CS5.5 (align, mixdown, balance)>Izotope Ozone 5 (EQ, harmonic exciter (gentle tube), imaging (add width)>Audacity (set fades, tracking, amplify and balance, downsample)>FLAC ( level 8 )
Tracks
01 Easy Pickings
02 White Ash Cut
03 Vitamins
04 Earthquake
05 Two Wooden Spoons
06 [banter]
07 See Here
08 [banter]
09 Misunderstanding
10 Spinney
11 Bashed Out
If you enjoyed this recording, please support This Is the Kit, like them on Facebook, and visit their bandcamp page to buy Wriggle Out the Restless.