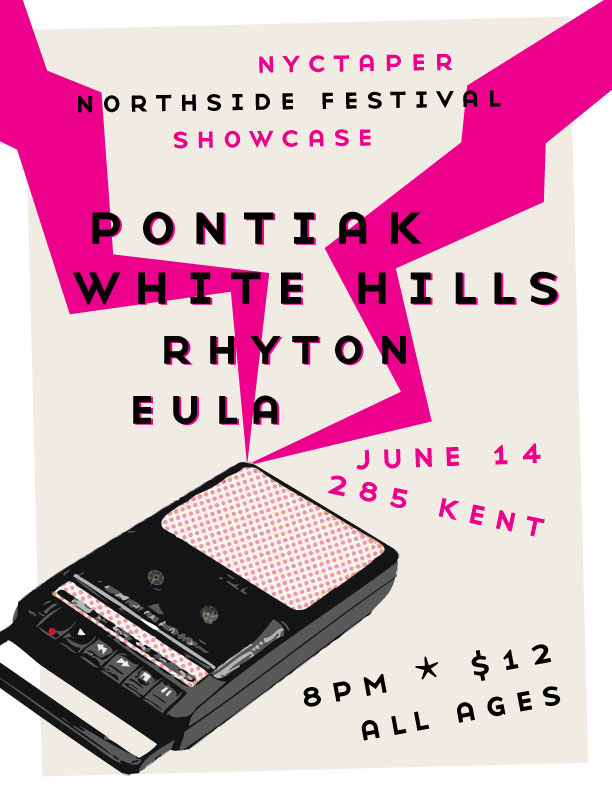 For the second year in a row, we are thrilled to be participating in the Northside Festival, which is more or less north Brooklyn's answer to CMJ.  This year's NYCTaper showcase will take place next Thursday, June 14 at 285 Kent on the festival's opening night, and will feature four bands whose music we are very excited about.  Our Facebook page for the event is [HERE] and tickets can be purchased [HERE].
Co-headliners and Thrill Jockey labelmates Pontiak and White Hills are two bands I have been digging for awhile now, and I couldn't be happier to have them on the bill.  I last checked in with Pontiak at the Memory Burn Psych Festival a couple years ago (that recording [HERE]) and since then, they have put out some excellent new material, most recently the record Echo Ono.  White Hills are fresh off the release of Frying On this Rock, which we recently got a taste of at Glasslands (recording [HERE]).  The trio has an avid following, and the recording makes it clear why.
Rhyton are a fairly new project (also on Thrill Jockey) from longtime NYC-area musicians whose other projects have been on this site. Dave Shuford, also of D. Charles Speer and the Helix (our recording of them [HERE]) and formerly of No Neck Blues Band, founded the band along with Jimmy SeiTang (Psychic Ills – our recording of them [HERE]) and Spencer Herbst (Messages, Matta Llama) to once again give voice to some of his heavier, more experimental influences that don't find their was obviously into the Speer material.  Rhyton's eponymous first record is a masterwork of jazz/psych experimentation, and we can't wait to see the material in the live setting.
EULA are a Brooklyn band that we've caught out and about a few times (for me, most recently at Cameo Gallery (recording [HERE]). Frontwoman Alyse Lamb has established herself as one of the most compelling bandleaders of late in the local scene, and she and her bandmates will be kicking off the night with their high-energy postpunk sound.
Stream "Young" by Pontiak from the Bell House:
Audio clip: Adobe Flash Player (version 9 or above) is required to play this audio clip. Download the latest version here. You also need to have JavaScript enabled in your browser.
Stream "Dead" by White Hills from Glasslands:

Audio clip: Adobe Flash Player (version 9 or above) is required to play this audio clip. Download the latest version here. You also need to have JavaScript enabled in your browser.
Stream Rhyton's music from their MySpace page
Stream "Maurice Narcisse" by EULA
Audio clip: Adobe Flash Player (version 9 or above) is required to play this audio clip. Download the latest version here. You also need to have JavaScript enabled in your browser.
We hope to see you at the show, and please grab your tickets [HERE]!