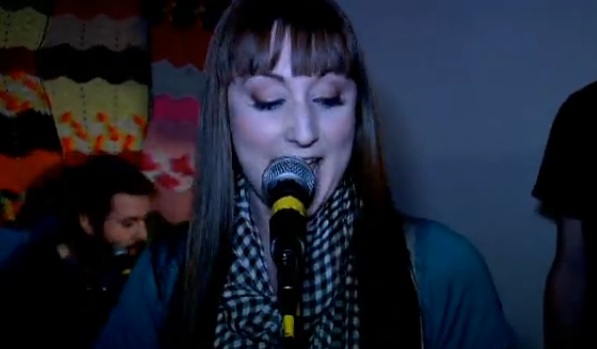 [still from official Donora video]
On a summer night in Brooklyn there are few places I'd rather be than Glasslands. With their perfectly refrigerated tap and AC cranked to full blast, it's always an easy decision to come for a night of great music. So when I saw this great indie-pop lineup with Donora headlining, I was excited.
Back in February, I had the pleasure of seeing Donora play in support of Team Genius and was impressed with the work from their 2011 EP, Boyfriends, Girlfriends. This show at Glasslands was a stop on their Friends Forever tour with fellow Pittsburgh band TeamMate and did not disappoint. Donora's upbeat set featured many of the songs from the EP plus a brand new track Under the Lights, which made the packed crowd dust off their dancing shoes.
This recording was made with a pair of Schoeps MK5 microphones positioned in our usual spot, along with a soundboard feed. We are really excited about Glasslands' recently upgraded soundboard, and this was the very first night with the new equipment. House engineer Jeremy absolutely nailed both the live mix and soundboard feed. The recording is an even balance between the two sources and sounds excellent. Enjoy!
Stream "Champion"
Audio clip: Adobe Flash Player (version 9 or above) is required to play this audio clip. Download the latest version here. You also need to have JavaScript enabled in your browser.
Stream "Shhh"
Audio clip: Adobe Flash Player (version 9 or above) is required to play this audio clip. Download the latest version here. You also need to have JavaScript enabled in your browser.
Direct download of MP3 files [HERE] | Direct Download of the FLAC files [HERE]
Note: All of the material on this site is offered with artist permission, free to fans, at our expense. The only thing we ask is that you download the material directly from this site, rather than re-posting the direct links or the files on other sites without our permission. Please respect our request.
Donora
Glasslands
Brooklyn, NY, US
2012-07-26
Recordist : hi and lo
Source : Soundboard + Schoeps MK5c/KC > Naiant PFA >> Tascam DR-680 @ 24 bit / 96 kHz
Edit : WaveLab V5.01b (fades/gain/eq/dither/resmpaling)
Encoding : FLAC v1.2.1 (Level 8) with TLH v2.6.0 (Build 168)
Tracklist:
01. The Untouchables
02. And Then the Girls
03. Boom Boom
04. Photograph
05. Mancini's Dance Hall
06. Champion
07. Under the Lights
08. Shhh
09. The Chorus
Running Time: 33:25
Please support Donora by checking out their Official Website, by following them on Facebook, or by purchasing their albums on iTunes.