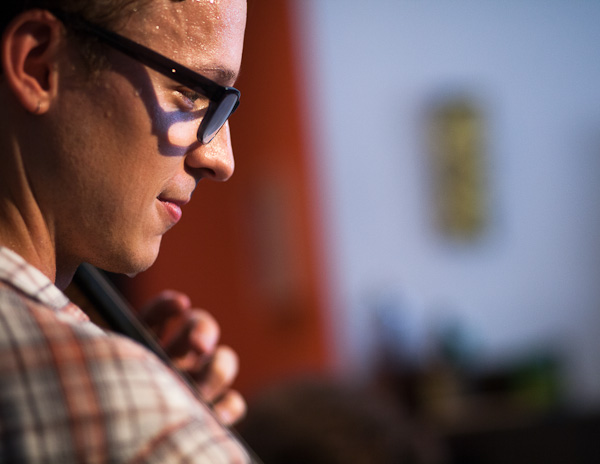 [photo by Dominick Mastrangelo]
The Backyard Brunch Sessions is in its third year of summer events and it continues to draw an incredible roster of performers to a very intimate and unique setting. Last weekend, Ben Sollee played a BBS that was brought indoors because of inclement weather. But the experience remained the same — an opportunity for a small selected group of people to experience an abundant amount of talent from up close. For us, very close. Ben Sollee is one of those performers whose rare combination of stage presence, likeability and sheer talent is magnetic. He is also a natural for the setting of BBS, and on Saturday Ben was fast friends with everyone in the room and effortlessly brought us all into the world of his music. As a duo with percussionist Jordon Ellis, who literally played a customized wooden box as a drum, Ben dipped into some older numbers but mostly focused on material from his new album Half Made Man, which will be released on September 25. Ben opened with "DIY" and ended the first set with "Unfinished", two of the stronger tracks from the new album. We are streaming "Hurting" from Ben's 2011 album Inclusions, as it was personally one of my favorite performances from this set and also features some incredible vocalizing at the conclusion of the song. Ben Sollee will be touring (via bicycle!) this month through the South and Midwest, dates [here].
I recorded this set with four microphones placed strategically around the performers. The Neumann hypercards were used primarily for vocals and the Sennheiser cards for instruments. A light amount of reverb was added in post to the vocals and the mixdown is weighted towards the vocals by about 60/40. The quiet room and hushed crowd provided a near perfect recording atmosphere so that this recording is really quite superb. Enjoy!
For more content from this performance, check this week on the sites of our partners for this event, Backyard Brunch Sessions and Consequence of Sound.
Stream "Hurting":

This Recording is now available to Download in FLAC and MP3 at Archive.org [HERE]
Note: All of the material on this site is offered with artist permission, free to fans, at our expense. The only thing we ask is that you download the material directly from this site, rather than re-posting the direct links or the files on other sites without our permission. Please respect our request.
Ben Sollee
2012-09-08
Backyard Brunch Sessions
Brooklyn, NY USA
Digital Master Recording
On Stage 4-Track
Neumann KM-150s + Sennheiser MKH-8040s > Edirol R-44 (Oade Concert Mod) > 2x 24bit 48kHz wav files > Soundforge (mix down, level adjustments, slight reverb to vocals, set fades, downsample) > CDWave 1.95 > (tracking) > TLH > flac (320 MP3 and Tagging via Foobar)
Recorded and Produced
by nyctaper
2012-09-13
Setlist:
[Total Time 44:21]
01 DIY
02 [banter – intro]
03 Some Lovin
04 [banter – bicycle tour]
05 The Globe
06 [banter – Half Made Man]
07 Unfinished
08 Teach Me
09 [banter – Captivity intro]
10 Captivity
11 [banter – questions]
12 Cajun Jam
13 [banter – geeking out]
14 Hurting
15 [banter – bike tour story]
16 Panning For Gold
If you email nyctaper for access to this recording, we expect that you will PLEASE SUPPORT Ben Sollee, visit his website, and pre-order Half Made Man from Ben's online Store [HERE].