[Photo by Agatha Donkar. Visit her website]
Matthew E. White has been one of the true musical sensations of 2012 so far. The Richmond, VA native has not only garnered praise from all quarters for his debut album Big Inner, a gumbo of 70s soul, rock, jazz, blues and roots influences (oh, and Randy Newman), but his live shows have already achieved cult status. Big Inner, released this year on the Hometapes imprint, is a lush, everything-but-the-kitchen-sink production that pairs White with a choir, strings, keyboards, baritone sax, and more, and White has proven equally willing to go for the big arrangements in the live setting, convenience and good sense be damned.
It is appropriate, then, that as one of the top artists to emerge from the southeastern U.S. this year, White garnered a prime slot at what I would argue has already risen to be the king of southeastern music festivals, the Hopscotch Music Festival. For this very special performance in Raleigh's Fletcher Opera Theater, White showed up with a 30-person ensemble including many of the very musical ingredients that make Big Inner so special. From the mellow Otis Redding-style groove of "One of These Days" to the psychedelic jams on "Hot Toddies", this over one hour show (longer than Big Inner's 40 minutes by a solid amount) was as varied and remarkable as Big Inner itself. Before wrapping up, White took special time to thank festival co-founder Grayson Currin, who booked this mammoth ensemble long before White became the toast of the blogosphere. As with so many things about this festival, this night with Matthew E. White was something Hopscotch got right.
This recording, by NC taper Larry Tucker, is a matrix mix of a soundboard feed and American-made Peluso microphones. While it suffers from some of the same room acoustics issues as the Lambchop recording, it is quite good. As a bonus, Hometapes and White's management have also permitted us to release our recording of "Brazos" that nyctaper recorded at Mercury Lounge.
Thanks to Matthew E. White, Hopscotch Festival, Dan Schram, Larry Tucker, and Shore Fire Media.
Stream "Hot Toddies"

Stream and download "Brazos" from the Mercury Lounge show (click the "Download" button in the window below to download):

Direct download of MP3 files [HERE] | Direct download of FLAC files [HERE]
If the FLAC link is no longer working, email nyctaper for the FLAC files
Check out all of NYCTaper's Hopscotch Festival recordings
Follow acidjack on twitter
Note: All of the material on this site is offered with artist permission, free to fans, at our expense. The only thing we ask is that you download the material directly from this site, rather than re-posting the direct links or the files on other sites without our permission. Please respect our request.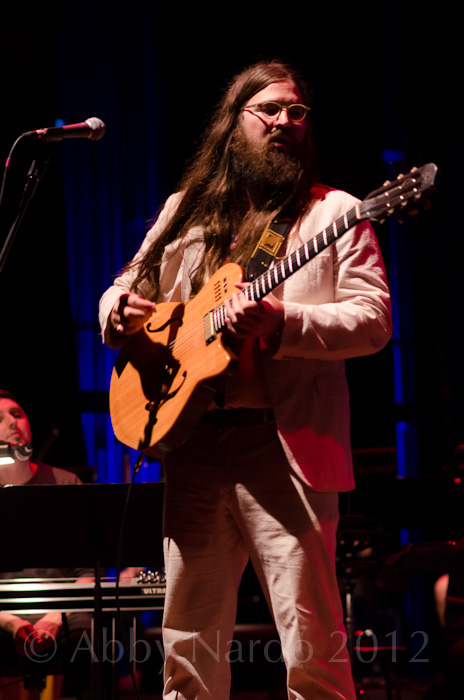 [Photo copyright 2012 by Abby Nardo]
Matthew E. White
2012-09-06
Hopscotch Festival
Lincoln Theater
Raleigh, NC USA
Recorded by Larry Tucker
Produced by Dan Schram
Soundboard>unknown deck + Peluso CEMC6-CK21>Fostex FR-2LE>>mixdown>>Izotope Ozone 5 (EQ)>Audacity 3.0 (tracking, fades, amplify, balance)>FLAC ( level 8 )
Tracks
01 Will You Love Me
02 One of These Days
03 Steady Pace
04 Hot Toddies
05 [unknown1]
06 [banter]
07 Big Love
08 [unknown2]
09 Gone Away
10 [band intros]
11 Brazos
12 [encore break]
13 [unknown3]
____________________
Matthew E. White
2012-08-20
Mercury Lounge
New York, NY  USA
Soundboard + Sennheiser MKH-8040s > Edirol R-44 (Oade Concert Mod) > 2 x 24bit 48kHz wav files >
Soundforge (level adjustments, set fades, downsample) > CDWave 1.95 > (tracking) > TLH >
flac (320 MP3 and Tagging via Foobar)
Tracks
[rest of set omitted at artist request]
08 Brazos
If you enjoyed this recording, PLEASE SUPPORT Matthew E White, visit his website, and purchase Big Inner from Hometapes [HERE]