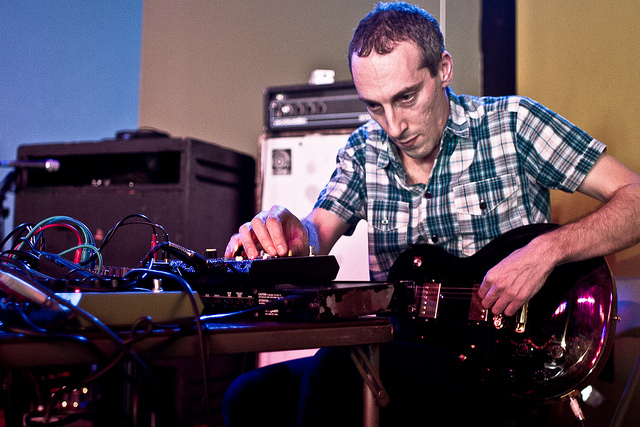 [Photo by Jeremy D Larson. See his Flickr stream [HERE]]
Oren Ambarchi was a very special pickup for this year's Hopscotch Music Festival. The world-renowned electronic guitarist and percussionist not only doesn't spend a ton of time touring stateside, but is an especially rare sight in North Carolina. A frequent collaborator with the band sunn O))), Ambarchi's work stretches the limits of music and the guitar as conventionally understood, with stretched-out song structures that are more dissonant soundscapes than proper songs. Coming on at Memorial Auditorium just before sunn O)))'s festival-closing set was an appropriate slot for Ambarchi and a logical move in terms of fan base; most who showed up in the hall knew what to expect (as much as anything that Ambarchi does is "expected").  This 32-minute improvisation is classic Ambarchi, and an excellent introduction to his work for those hearing him for the first time.
I recorded this set with Schoeps MK5 microphones in the cardiod setting from the optimal position in the venue. The sound is excellent. Enjoy!
Stream the entire set:

Please note, at the artist's request, no downloading of this set is permitted.
Follow acidjack on twitter
Check out all of NYCTaper's Hopscotch Festival recordings
Note: All of the material on this site is offered with artist permission, free to fans, at our expense. The only thing we ask is that you download the material directly from this site, rather than re-posting the direct links or the files on other sites without our permission. Please respect our request.
Oren Ambarchi
Hopscotch Music Festival
Memorial Auditorium
Raleigh, NC USA
Exclusive download hosted at nyctaper.com
Recorded and produced by acidjack
Schoeps MK5 (cardiod, DFC, 10ft, DIN)>KC5>CMC6>Sound Devices USBPre2>Edirol R-44 [OCM]>24bit/48kHz WAV>Audacity (light eq, set fades, amplify, balance, downsample)>FLAC
Tracks
01 improvisation
If you enjoyed this recording, PLEASE SUPPORT Oren Ambarchi, visit his website, and buy his releases from Touch music [HERE]