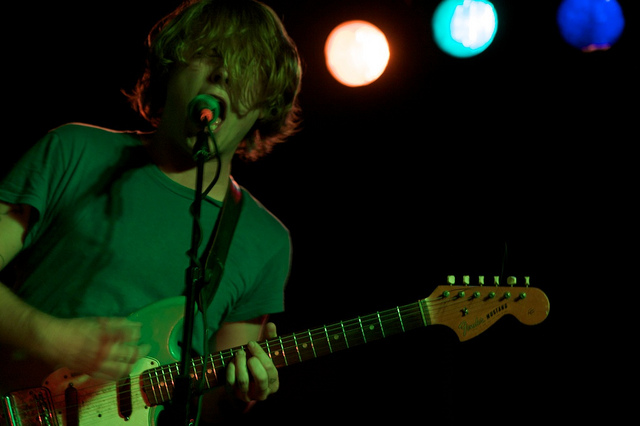 [photo by Alan Bee
Ty Segall played his first show ever in NYC at Death By Audio. Of course, that was several years ago and these days Ty plays much larger venues. On the Sunday before this show, Ty played a new outdoor venue to a couple of thousand fans. But in a return to his roots, Ty Segall played a surprise show on a Monday night at DBA. As if to confirm the reports that his new album Slaughterhouse is influenced more by 70's hard rock than by the garage-rock sounds of his earlier material, Ty opened this show with a Sabbath cover (streaming below) and played four straight heavy covers. The Segall material was mixed among his large catalog, with Slaughterhouse tracks sprinkled in throughout. We're streaming the poppier "Tell Me What's Inside Your Heart", and if you listen to the end, you'll hear Ty thank DBA's Edan, whose booking of this show as a local coup. Although packed into the small DIY venue, the crowd was very much into the show and their energy was contagious. This was one of the most fun shows we've seen all year.
Acidjack mounted a new pair of modest Berliner mics on the ceiling of DBA, as we expected the raucous crowd. We ran the cables across the ceiling and over the soundboard area where I also received an excellent feed. The sound quality of this recording is quite excellent. Enjoy!
Thee Oh Sees was also recorded and will be posted this coming week.
Stream "Paranoid [Sabbath cover]":

Stream "Tell Me What's Inside Your Heart":

Download the Complete show: MP3 [HERE] / FLAC [HERE]
Ty Segall
2012-09-24
Death By Audio
Brooklyn, NY USA
Digital Master Recording
Soundboard + Audience Matrix
Soundboard + Berliner CM-33 > Edirol R-44 (Oade Concert Mod) > 2 x 24bit 48kHz wav files > Soundforge (level adjustments, mixdown, set fades) > CDWave 1.95 (tracking) > TLH > flac (320 MP3 and tagging via Foobar)
Recorded and Produced
by nyctaper 2012-10-04
Setlist:
[Total Time 43:09]
01 Paranoid (first verse) [Sabbath]
02 Motorhead [Motorhead]
03 Dirty Deeds Done Dirt Cheap [AC/DC]
04 Silver Machine [Hawkwind]
05 I Wear Black
06 I Bought My Eyes
07 Tell Me What's Inside Your Heart
08 Muscle Man
09 Finger
10 You're The Doctor
11 Imaginary Person
12 The Drag
13 Standing At The Station
14 My Sunshine
15 Wave Goodbye
16 Paranoid (second verse) [Sabbath]
If you download this recording from NYCTaper, we expect that you will PLEASE SUPPORT Ty Segall, visit his website, and purchase his latest album Slaughterhouse from In The Red Records [HERE].