[Photos by acidjack]
Futurebirds continue to broaden their audience and appeal, as the Athens, GA band refines their live sound and, of course, books opening slots with well-loved acts like the Heartless Bastards. When I caught them last year at Union Pool, the venue and the atmosphere gave the proceedings a more boozy, party-band vibe. That isn't necessarily untrue of this Irving Plaza set – it was Halloween weekend, the band was the only one of the night's acts to roll in with Halloween costumes, and the crowd was drinking plenty – but the bigger stage and sound system gave the band a more commanding presence. Here, their music had a bit more of an epic scope, so much so that they reminded me of a pedal steel-playing, more countrified version of fellow Southerners My Morning Jacket. The band, whose last record is a live album that documents the strength of their live sound, is using these Heartless Bastards shows to work out new material, and three of those as-yet-unnamed tunes were on offer on this night. Together with regular tour classics like their cover of Stevie Nicks' "Wild Heart" and "Johnny Utah", this show reaffirmed my view that we'll be seeing more of Futurebirds in the years to come.
I recorded this set with MBHO KA200N cardiod microphones from the center of the floor. Despite the challenges of the boomy room, with some TLC the recording is quite good. Enjoy!
Stream "[new song 2]"

Stream "Johnny Utah"

Direct download of MP3 files [HERE] | Direct download of FLAC files [HERE]
If the FLAC link is no longer working, email nyctaper for the FLAC files
Follow acidjack on twitter
Note: All of the material on this site is offered with artist permission, free to fans, at our expense. The only thing we ask is that you download the material directly from this site, rather than re-posting the direct links or the files on other sites without our permission. Please respect our request.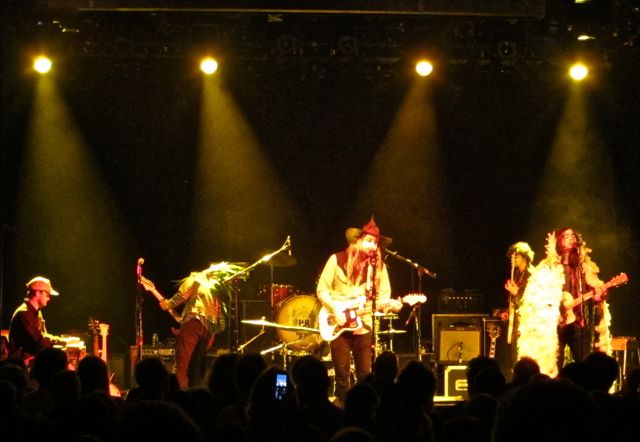 Futurebirds
2012-10-27
Irving Plaza
New York, NY USA
Exclusive download hosted at nyctaper.com
Recorded and produced by acidjack
MBHO KA200N (FOB, DFC, PAS)>MBP 603a>Aerco MP-2>Sony PCM-M10>24bit/44.1kHz WAV>Izotope Ozone 5 (EQ)>Audacity 3.0 (fades, tracking, amplify, balance, downsample)>FLAC ( level 8 )
Tracks
01 [new song 1]
02 Battle For Rome
03 [new song 2]
04 M J B
05 [banter]
06 Johnny Utah
07 [banter]
08 [new song 3]
09 [banter]
10 Wild Heart [Stevie Nicks]
11 Ski Chalet
If you download this recording from NYCTaper, we expect that you will PLEASE SUPPORT Futurebirds, visit their Facebook page, and purchase Hampton's Lullaby directly from Autumn Tone records (on CD or in any download format) here.