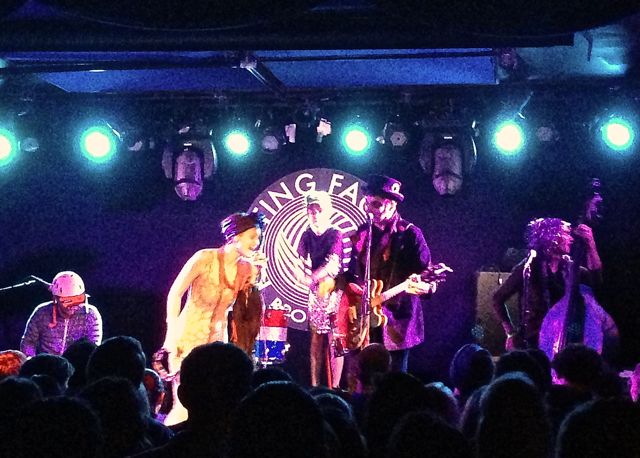 [Photos by acidjack]
The L.A. band He's My Brother She's My Sister have multiple personalities: Their twang suggests country, their style suggests retro, the natural bounce to their songs suggests a touch of swing. You cannot fairly call them any of these things, but once it's all happening on stage, it makes sense – and it's a fun, theatrical affair to boot.  This pre-Sandy, pre-Halloween weekend show at the Knitting Factory seems like it was a long time ago now, but it otherwise would have been the perfect way for its crowd to enter the big weekend.  He's My Brother She's My Sister (which does include siblings Robert and Rachel Kolar) is a millennial party band through and through, and if you couldn't get that from the upbeat first chorus of "How'M I Gonna Get Back Home", their costumes probably gave it away. Their fan base – drawn heavily from those millennials – seemed to know them well, and they did their part by partying their asses off through the full hour. And they should have – in just over one hour, this band gave us a veritable tour of some of the best music of the last fifty years, from the dancefloor ready honky tonk of "Let's Go" to the 60s rock of "Escape Tonight" and the combo of bluesy guitars and Broadway exuberance of "Touch the Lightning". The band has just released its debut full length record, Nobody Dances In this Town, and while no recorded music could fully bottle the lightning of the band's live show, it comes pretty damn close. Appropriate to the Halloween spirit, the set ended with the band's signature number "Tales That I Tell", made all the more festive by the band inviting scores of costumed, dancing audience members onstage with them.
I recorded this set with a soundboard feed provided by the Knit's great engineer, Rob, as well as new MBHO cardiod microphones. While a malfunction in the microphone bodies results in some odd-sounding distortion during the applause between tracks at points, the sound of the recording is overall excellent, and does not have this flaw during the music itself. Enjoy!
Stream "Let's Go"

Stream "Touch the Lightning"

Direct download of MP3 files [HERE] | Direct download of FLAC files [HERE]
If the FLAC link is no longer working, email nyctaper for the FLAC files
Follow acidjack on twitter
Note: All of the material on this site is offered with artist permission, free to fans, at our expense. The only thing we ask is that you download the material directly from this site, rather than re-posting the direct links or the files on other sites without our permission. Please respect our request.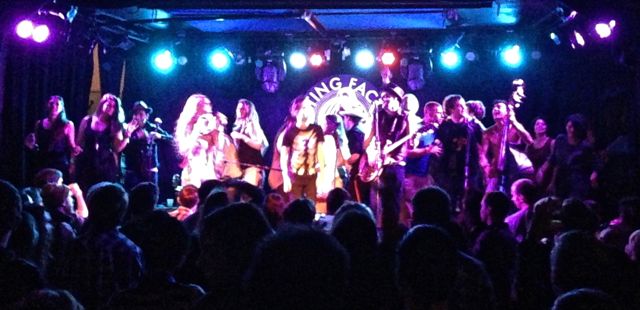 He's My Brother She's My Sister
2012-10-25
Knitting Factory
Brooklyn, NY USA
Exclusive download hosted at nyctaper.com
Recorded and produced by acidjack
Soundboard (Engineer: Rob) + MBHO KA200N>MBP 603a>>Edirol R-44 [OCM]>2x24bit/48kHz WAV>Adobe Audition 3.0 (compress SBD, mixdown, fades)>Izotope Ozone 5 (EQ, exciter)>Audacity 3.0 (track, amplify, balance, downsample)>FLAC ( level 8 )
Tracks
01 How'm I Gonna Get Back Home
02 Let's Go
03 Let It Live Free
04 Escape Tonight
05 [banter]
06 Touch the Lightning
07 [banter]
08 Choir of the Dead
09 Slow It Down
10 Lazy Days
11 Can't See the Stars
12 The Same Old Ground
13 Clackin' Heels
14 Electric Love
15 [banter]
16 Tales That I Tell
If you enjoyed this recording, PLEASE SUPPORT He's My Brother She's My Sister, visit their website, and buy Nobody Dances In this Town from the band [HERE]