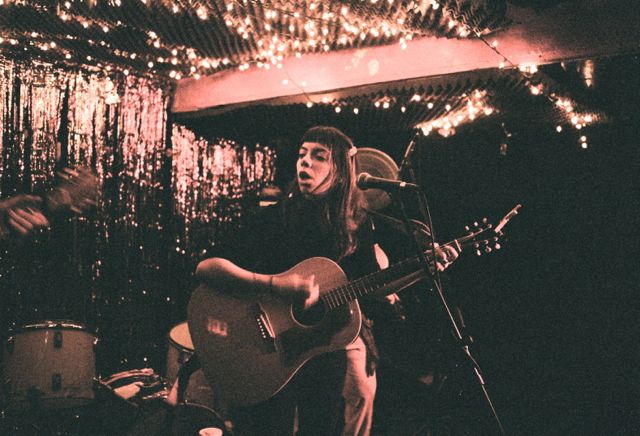 [Photos by Jill Harrison at For the Love of Brooklyn]
As Hurricane Sandy's damage continues to be assessed here on the East Coast, it seems grimly appropriate to highlight the CMJ performance of an outstanding New Orleans-based band that represents that city's history as well as its brightening future. Hurray For the Riff Raff have been favorites of this site for a while now, and we did everything we could – including picking them up from the airport – to make it possible for them to play our unofficial CMJ day show at Cake Shop, just hours after they got off a plane from Germany. If this minimalist version of the band – lead singer and guitarist Alynda Lee Segarra and guitarist Sam Doores, plus special guest Matt Davidson of Spirit Family Reunion on fiddle – was worn out from traveling, they didn't show it during this acoustic set. In fact, Alynda, Sam and Matt looked to be having a hell of a lot of fun as they played stripped-down versions of new songs, older songs, and a choice cover of the Ronettes classic, "Be My Baby". After seeing a fantastic performance from the band back in August, it was a special treat to be able to see them again so soon. While the band has returned to New Orleans to enjoy some much-needed time to de-compress, we'll be happy to welcome them back as soon as they are ready.
I recorded this set with a soundboard feed provided by the day's engineer Justin, plus Schoeps MK5 microphones mounted at the front of the stage. The sound is excellent. Enjoy!
Stream "Look Out Mama"

Direct download of MP3 files [HERE] | Direct download of FLAC files [HERE]
If the FLAC link is no longer working, email nyctaper for the FLAC files
Follow acidjack on twitter
Note: All of the material on this site is offered with artist permission, free to fans, at our expense. The only thing we ask is that you download the material directly from this site, rather than re-posting the direct links or the files on other sites without our permission. Please respect our request.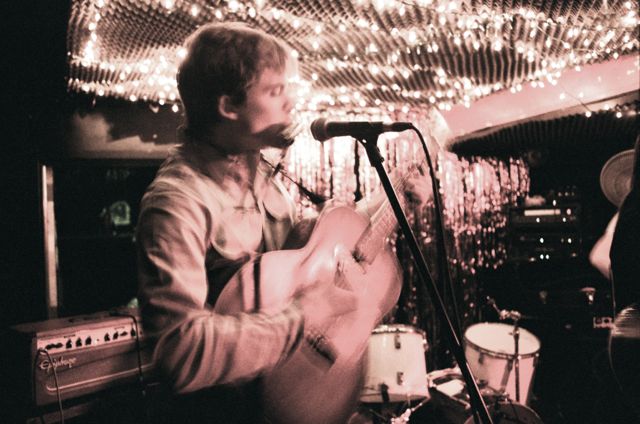 Hurray For the Riff Raff
2012-10-18
NYCTaper CMJ Day Show
Cake Shop
New York, NY USA
Exclusive download hosted at nyctaper.com
Recorded and produced by acidjack
Soundboard (engineer: Justin) + Schoeps MK5>KCY>Z-PFA>>Edirol R-44 [OCM]>Adobe Audition CS 5.5 (mix down, fades, align, adjust levels)>Izotope Ozone 5 (EQ, thicken, exciter)>Audacity 3.0 (tracking, amplify, balance, light DR compression, downsample)>FLAC ( level 8 )
Tracks
01 Lake of Fire
02 Slow Walk
03 Look Out Mama
04 [tuning]
05 Down By the River
06 Daniella
07 Blue Ridge Mountain
08 [banter]
09 Saint Roche Blues
10 [banter]
11 The Junebug Waltz
12 Be My Baby [Ronettes]
If you enjoyed this recording, PLEASE SUPPORT Hurray For The Riff Raff, visit their website, and purchase Look Out Mama from the Euclid Records website [HERE].