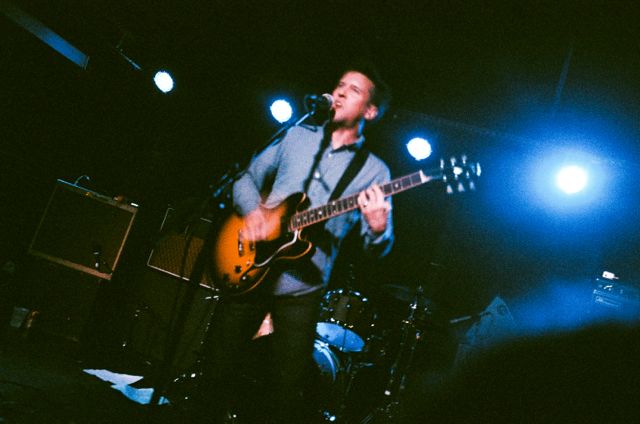 [Photo by Jill Harrison of For the Love of Brooklyn]
Merge Records co-founder and Superchunk and Portastatic frontman Mac McCaughan has more than earned his beloved status in the indie rock community. His contributions to the Chapel Hill and Durham, NC music scenes, and music in general, could have taken two lifetimes, and his confessional, direct songwriting continues to resonate and remain fresh more than two decades into his music career. As for Merge, the label has been one of those remarkable and rare successes in music, remaining staunchly independent and committed to promoting quality releases – and finally earning a Grammy for its current mega-artist, Arcade Fire. So, after we wrapped up our own CMJ showcase down the street at Cake Shop, the NYCTaper crew headed over to Mercury Lounge where McCaughan joined William Tyler, Mount Moriah, Reigning Sound, Eleanor Friedberger and Telekinesis for Merge's CMJ Showcase.
McCaughan performed as a solo act, an uncommon treat to see in the New York area. As usual, this set combined new and old Superchunk songs with Portastatic classics like "Autumn Got Dark."  The set also included a brand new number that McCaughan said should appear on a Superchunk release next year, which we are streaming below. Though the singer-songwriter format lacked some of the punch of a normal Superchunk gig, it gave McCaughan's lyrics and voice the spotlight. McCaughan's exuberant, earnest delivery still comes across like that of a brash, young artist, and the themes of his writing continue to prove their timelessness. On a night that in many ways celebrated McCaughan's success, this set was another one.
I recorded this set with a soundboard feed provided by house engineer Kevin Mazzarelli, with Schoeps MK5 microphones providing just a bit of room ambiance. The quality is excellent. Enjoy!
Stream "Autumn Got Dark"

Stream "[untitled new Superchunk song]"

Direct download of MP3 files [HERE] | Direct download of FLAC files [HERE]
If the FLAC link is no longer working, email nyctaper for the FLAC files
Follow acidjack on twitter
Note: All of the material on this site is offered with artist permission, free to fans, at our expense. The only thing we ask is that you download the material directly from this site, rather than re-posting the direct links or the files on other sites without our permission. Please respect our request.
Mac McCaughan
2012-10-18
Merge Records CMJ Showcase
Mercury Lounge
New York, NY USA
Soundboard (engineer: Kevin Mazzarelli) + Schoeps MK5 (cardiod, ROC, PAS)>KCY>Z-PFA>> Edirol R-44 [OCM]>2x24bit/48kHz WAV>Audacity 3.0 (mixdown, set fades, amplify, balance, downsample)>FLAC ( level 8 )
Tracks
01 [intro]
02 Trash Heap
03 Good Dreams
04 Rope Light
05 Through With People
06 Autumn Got Dark
07 Home At Dawn
08 Driveway to Driveway
09 [banter]
10 A Small Definition
11 [new song 1]
12 Digging For Something
13 [banter]
14 I Wanna Know Girls
15 [banter]
16 San Andreas
If you enjoyed this recording, PLEASE SUPPORT Mac McCaughan and Merge Records by visiting the Merge website and buying the many fine releases available there, including Superchunk and Portastatic's albums.