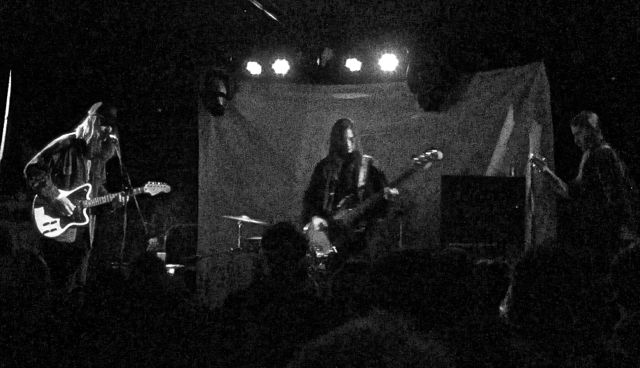 [Photos by acidjack]
The Brooklyn band Psychic Ills hit the Knitting Factory a few weeks ago along with compadres Guardian Alien (recording HERE)  and Starring (recording coming soon) in preparation for the wide-ranging tour of China they have now embarked upon. By the look and sound of things, the foursome were ready to go, as they weaved together the druggy, deep grooves they have become known for under hushed lights. The band's most recent effort, and first for Sacred Bones, Hazed Dream, was the most-represented on this night, with the band leading off with three fifths of that record's excellent A side, including their most "poppy" (by their standards) number, "Mind Daze". Along with the Hazed Dream material, the other half of the set touched down at various points from the band's back catalog, with two songs from 2006's Dins, "Diamond City" from their 2005 Mental Violence II EP, and "Way Of" from the largely misunderstood Mirror Eye joining the band's most recent single, "Take Me With You", which they released on a split 7-inch with Moon Duo earlier this year. While the "psychedelic rock" genre (massively broad as it now is) usually relies upon setting a mood, the Ills take things further in that direction than most, serving up the set as a more or less unified piece of music with guitar transitions instead of stage banter, substituting their songs' evolutions and contrasts in tone and tempo for big, room-rocking singles. Expect a new record from the Ills next year, which we hope to continue with the strong style established on Hazed Dream. 
I recorded this set with MBHO KA200N cardiod microphones and an excellent soundboard feed by Rob from the Knitting Factory.  The sound is excellent.  Enjoy!
Stream "Take Me With You"

Direct download of MP3 files [HERE] | Direct download of FLAC files [HERE]
If the FLAC link is no longer working, email nyctaper for the FLAC files
Follow acidjack on twitter
Note: All of the material on this site is offered with artist permission, free to fans, at our expense. The only thing we ask is that you download the material directly from this site, rather than re-posting the direct links or the files on other sites without our permission. Please respect our request.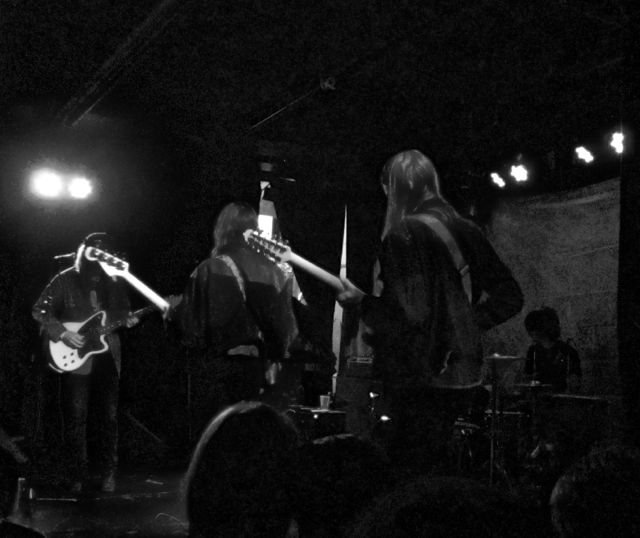 Psychic Ills
2012-11-09
Knitting Factory
Brooklyn, NY USA
Exclusive download hosted at nyctaper.com
Recorded and produced by acidjack
MBHO KA200N>MBP603>Sound Devices USBPre2 + Soundboard (engineer: Rob) >> Edirol R-44 [OCM]>2x24bit/48kHz WAV>Audition (mix down)>Izotope Ozone 5 (EQ)>Audacity 3.0 (set fades, tracking, amplify, balance, downsample)>FLAC ( level 8 )
Tracks
01 [intro]
02 Midnight Moon
03 Mind Daze *
04 Incense Head
05 Electriclife
06 The Way Of
07 January Rain
08 Ring Finger *
09 Diamond City
10 Take Me With You
11 I'll Follow You Through The Floor
If you enjoyed this recording, PLEASE SUPPORT Psychic Ills, visit their website, and purchase Hazed Dream from Sacred Bones Records [HERE]