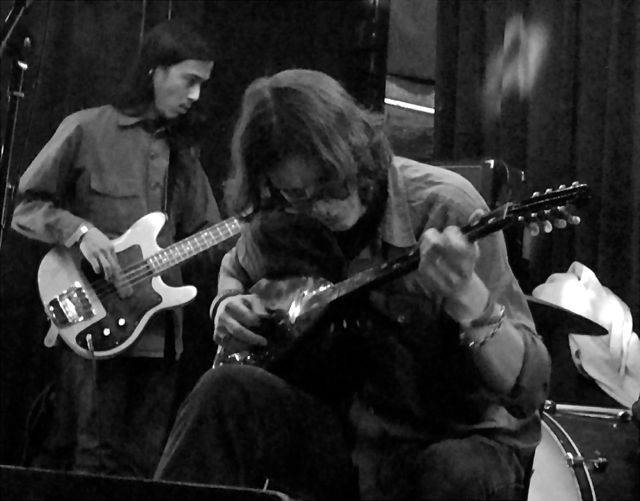 [Photos by acidjack]
After their thrilling performance at the NYCTaper Northside Festival Showcase back in June, I couldn't wait for Rhyton to hit Union Pool last week so I could see them perform songs from their latest, The Emerald Tablet.  Or at least, I assumed that would be the case, seeing that the record just dropped in September. But frontman/guitarist/other instrumentalist Dave Shuford, bassist Jimy Seitang and drummer Spencer Herbst aren't the sort of musicians to "tour an album" or pause their creative process. So, instead of Emerald tracks, the band gave us a completely new pair of free-flowing compositions that are so new they only have working titles. These compositions are more of a piece stylistically with the band's previous record, Rhyton, with a noisier, less Eastern-influenced feel than The Emerald Tablet. But, when you are dealing with a trio of improvisers like the Rhyton gang, it's never correct to say anything is exactly like the past.
I recorded this set with Schoeps MK5 cardiod microphones from the center of the balcony, augmented by a soundboard feed from the house engineer, Doug.  The sound is excellent.  Enjoy!
Stream "Spirit Gum"

Direct download of MP3 files [HERE] | Direct download of FLAC files [HERE]
If the FLAC link is no longer working, email nyctaper for the FLAC files
Follow acidjack on twitter
Note: All of the material on this site is offered with artist permission, free to fans, at our expense. The only thing we ask is that you download the material directly from this site, rather than re-posting the direct links or the files on other sites without our permission. Please respect our request.
Rhyton
2012-11-27
Union Pool
Brooklyn, NY USA
Exclusive download hosted at nyctaper.com
Recorded and produced by acidjack
Schoeps MK5 (DFC, at SBD, DIN)>KCY>Z-PFA + Soundboard (engineer: Doug)>>Edirol R-44 [Oade Concert Mod]>Adobe Audition CS 5.5 (mix down, adjust levels)>Izotope Ozone 5 (light EQ, exciter)>Audacity 3.0 (set fades, tracking, amplify, balance, downsample)>FLAC ( level 8 )
Tracks
01 Grokked in the Alleyway
02 Spirit Gum
If you enjoyed this recording, please support Rhyton, visit their page on Thrill Jockey Records, and purchase The Emerald Tablet LP directly from Three Lobed/Divide By Zero [HERE].