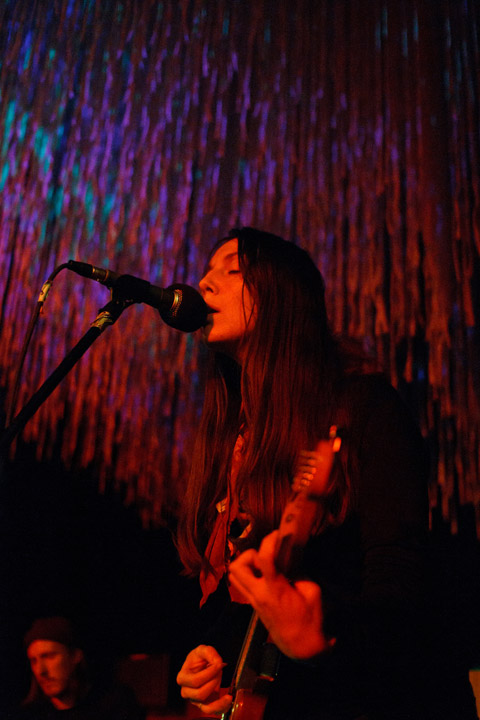 [photo courtesy of Amanda Hatfield and brooklynvegan]
Last month at Sharon Van Etten's secret show at Cameo Gallery, we weren't entirely certain until well into the evening as to whether Sharon would actually play. But we were ok with that, since the bill included our old friends She Keeps Bees. We hadn't seen Jess and Andy in quite a while, likely in over a year. They spend a lot of time recording and playing in Europe, since, well, our brethren overseas have caught on to the magic of She Keeps Bees better than the audiences and industry folk over here. Their 2011 release Dig On was one of Rough Trade's albums of the year, but it hardly made a blip in America. In the US, its not to say that when a crowd is at an SKB show, they don't have a great time. Its just that the crowds aren't big enough and the industry buzz isn't loud enough given the immense talent and likeability of this duo. Eventually, it will happen. And perhaps the friendship of performers like Sharon Van Etten will help — it certainly can't hurt. At Cameo last month, She Keeps Bees played a forty minute set in a style to which we've become accustomed — a nice mix of material old and new, plenty of hilarious banter, and some outstanding individual performances. We're streaming the finale of "Ribbon" because it encapsulates much of what's great about this band, talent, energy and lots of soul.
I recorded this set in the same manner as Sharon's set, and the sound quality is outstanding. Enjoy!
Stream "Ribbon":

Download the Complete show [MP3] / [FLAC]
Note: All of the material on this site is offered with artist permission, free to fans, at our expense. The only thing we ask is that you download the material directly from this site, rather than re-posting the direct links or the files on other sites without our permission. Please respect our request.
She Keeps Bees
2012-12-15
Cameo Gallery
Brooklyn, NY USA
Digital Master Recording
Recorded from Front of Soundboard Booth
Soundboard + Sennheiser MKH-8040s > Edirol R-44 (Oade Concert Mod) > 24bit 48kHz wav file > Soundforge (level adjustments, EQ, mixdown, set fades) > CDWave 1.95 (tracking) > TLH > flac (320 MP3 and Tagging via Foobar)
Recorded and Produced
by nyctaper
2013-01-16
Setlist:
[Total Time 36:02]
01 Sister Beware
02 Breezy
03 Counter Charm
04 Pillz
05 All or None
06 See Me
07 [banter]
08 Vulture
09 Gimme
10 Howl
11 Ribbon
If you download this recording from NYCTaper, we expect that you will PLEASE SUPPORT She Keeps Bees, visit their website, and purchase Dig On from their Bandcamp page [HERE].