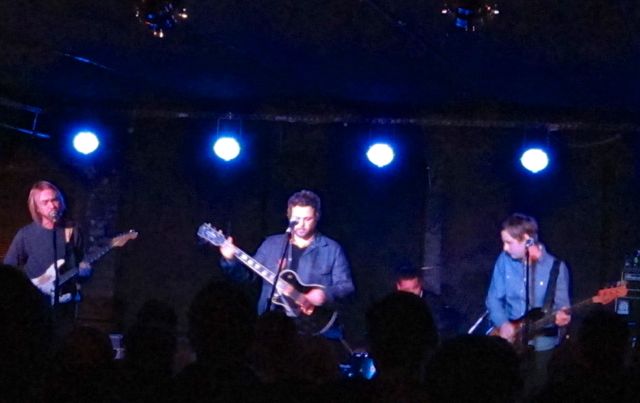 The Amazing hail from Sweden and share some members with that country's well-known retro-psych outfit Dungen (our most recent recording of them HERE).  While The Amazing also share some stylistic traits with that band, most obviously the stellar guitar work of both bands' lead guitarist Reine Fisk, they also stand as a distinct entity. The Amazing's sound is a more nuanced affair than the rock behemoth that is Dungen, and their songwriting is more wistful and textured.  Frontman Christoff Gunrup sings in English, and that combined with the instrumental approach gives The Amazing the caste of a folkier, almost countrified version of Dungen.  This show at Mercury Lounge found the band celebrating the release of their latest record, Gentle Stream, their second full-length LP and first to be released by our good friends at Partisan Records. The boys served up material from all three of their current records, with an appropriate amount of emphasis given to the latest effort. This was their final NYC show for a bit, but don't ignore a chance to see these guys, wherever they may be.
I recorded this set with MBHO KA500N hypercardiod microphones and a soundboard feed from the talented longtime Mercury Lounge engineer Kevin. The sound is excellent. Enjoy!
Direct download of the complete show: [MP3] | [FLAC]
If the FLAC link is no longer working, email nyctaper for the FLAC files
Follow acidjack on twitter
Note: All of the material on this site is offered with artist permission, free to fans, at our expense. The only thing we ask is that you download the material directly from this site, rather than re-posting the direct links or the files on other sites without our permission. Please respect our request.
The Amazing
2013-01-25
Mercury Lounge
New York, NY USA
Exclusive download hosted at nyctaper.com
Recorded and produced by acidjack
Soundboard (engineer: Kevin Mazzarelli) + MBHO KA500N>MBP603>Sound Devices USBPre2>>Edirol R-44 [OCM]>2x24bit/48kHz WAV>Adobe Audition CS 5.5 (multi band compression on SBD, mix down)>Izotope Ozone 5 (EQ, exciter)>Audacity (set fades, additional EQ, tracking, amplify, balance, downsample)>FLAC ( level 8 )
Tracks [Total Time: 54:41]
01 Head Beaches
02 [banter1]
03 Deportation Day
04 Dogs
05 [banter2]
06 The Fog>
07 Gentle Stream
08 Flashlight
09 Gone
10 When the Colours Change
If you enjoyed this recording, PLEASE SUPPORT The Amazing, like them on Facebook, and buy Gentle Stream from Partisan Records [HERE]