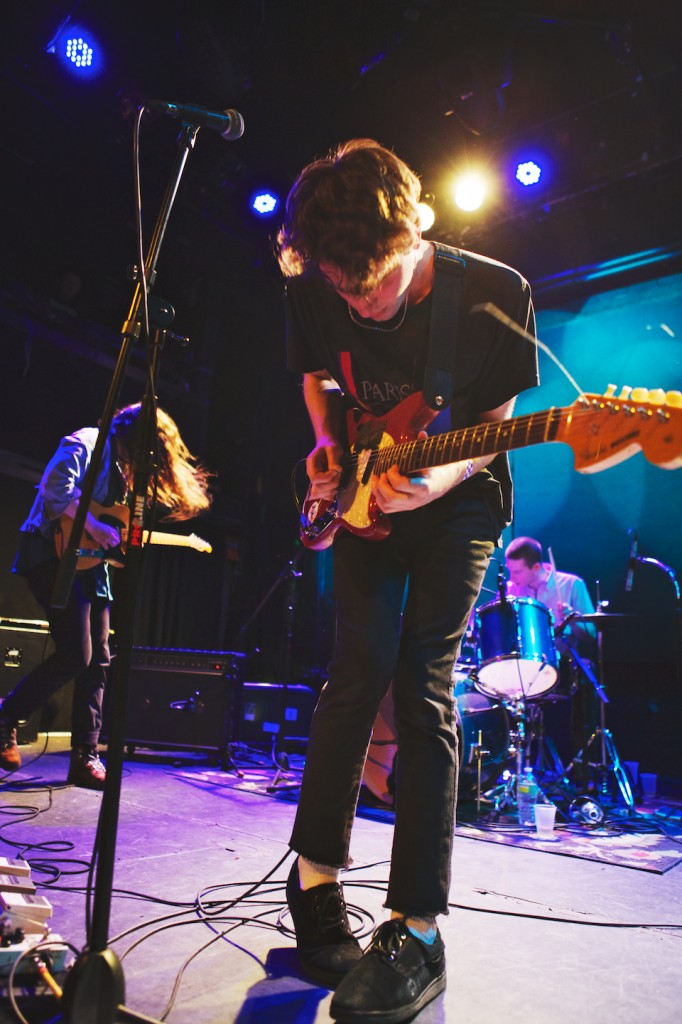 [photo by Jonathon Bernstein – courtesy of brooklynvegan]
The Beach Fossils self-titled first album was a refreshing debut from a band that had at that point been on our radar for a year. It was a well-received 80's influenced indie-pop album that was fairly straightforward fun. But if you expected the band to make the same album over and over again, you'll likely be disappointed in the new Beach Fossils album Clash The Truth. Dustin Payseur is a student of music — he's both a collector of vast quantities of vintage vinyl and a sponge for knowledge. I've had both conversations about obscure 80's music with Dustin and seen the incredible list of songs on his laptop. This is a performer who knows his craft and understands its history. So it should really come as no surprise that Clash is a more mature and focused album than its predecessor. And as with much of the early 80s Brit post-punk that influences this album, it also has a bit of sneer. Fortunately though, much of the band's fan base seems to understand and accept the band's admirable growth. On Saturday night, Beach Fossils sold out Bowery Ballroom and delivered a performance that featured much of Clash and a healthy dose of older material. Dustin has integrated two new members into the band and the new material is just gathering momentum live, but overall the band delivered a solid set with many highlights. Beach Fossils are on tour in the East but return to NYC for a show at 285 Kent this Sunday, March 3.
I recorded this set with my new Neumann TLM-102 large diaphragm cardioid microphones from our usual spot in this venue, and mixed with a fine board feed. The sound is excellent. Enjoy!
Stream "Daydream":

Download the Complete show [MP3] / [FLAC]
Note: All of the material on this site is offered with artist permission, free to fans, at our expense. The only thing we ask is that you download the material directly from this site, rather than re-posting the direct links or the files on other sites without our permission. Please respect our request.
Beach Fossils
2013-02-23
Bowery Ballroom
New York, NY
Digital Master Recording
Soundboard + Audience Matrix
Soundboard + Neumann TLM-102s > Edirol R-44 (Oade Concert Mod) > 2 x 24bit 48kHz wav files > Soundforge (level adjustments, mixdown, set fades) > CDWave 1.95 (tracking) > TLH > flac (320 MP3 and tagging via Foobar)
Recorded and Produced
by nyctaper 2013-02-26
Setlist:
[Total Time 1:04:22]
01 Clash the Truth
02 Generational Synthetic
03 Youth
04 Shallow
05 Sometimes
06 The Horse
07 Vacation
08 Taking Off
09 Caustic Cross
10 Burn You Down
11 Birthday
12 Moments-What a Pleasure
13 Calyer
14 Twelve Roses
15 Careless
16 [encore break]
17 Sleep Apnea
18 Crashed Out
19 Daydream
If you download this recording from NYCTaper, we expect that you will PLEASE SUPPORT Beach Fossils, visit their Facebook page, and purchase Clash The Truth from Captured Tracks [HERE].