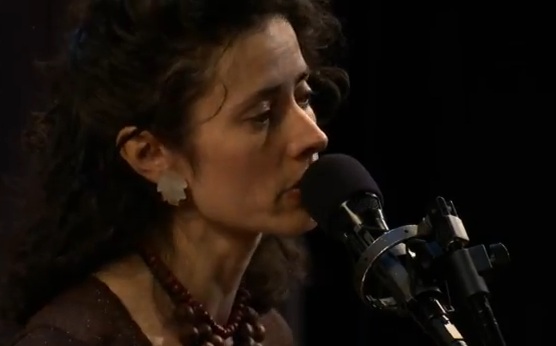 [still from this video]
I think its fair to say that Diane Cluck has had an admirable but unconventional career. As part of the early 2000's NYC anti-folk movement, she's been an abundant songwriting and performing talent for well over a decade. But while some of her early contemporaries have moved to major labels, Diane has eschewed conventional success to pursue a more rewarding personal journey. But it seems that despite her uncompromising career choices, her time has come. Last Spring, Diane introduced her "Song of the Week", where in a kickstarter-style subscription service her fans can receive one song at regular intervals until all 24 songs of her project are revealed. Each release is accompanied by lyrics and personal discussions with Diane. This is essentially artist-to-fan interaction at its purest form and represents an ideal format for this particular artist. At present, there have been eight releases which have included seven songs and set of poems. At Joe's Pub on Tuesday night, Diane Cluck performed all seven of those songs in a compellingly beautiful seventy minute set. While the venue was not packed on this mid-week late show, there was nevertheless a healthy crowd of adoring fans, all of whom were quiet and rapt with attention to the performer throughout the music but who were also vociferous in their praise in between songs. Diane performed with a trio who included her recent collaborators cellist Isabel Castellvi and percussionist Anders Griffen, and the group worked through a setlist of highlights from Diane's catalog with grace and precision. Diane Cluck does not perform frequently in NYC, but rest assured we'll be there again when she returns.
There are some outstanding photos from this show at Gretchen Robinette's tumblr [here].
I recorded this set with the DPA 4061 omnis attached to the large pole on the right side of the venue and mixed with a mono feed from the soundboard. Joe's Pub has some hurdles to capture a clean recording, including the sounds of an active restaurant and the rumble of the 6 train below the venue. I mixed the sources about 60/40 in favor of the board over the mics, but some of the ambient sounds can still be heard, which are necessary in order to maintain the feel of the room. Overall, the sound of this recording is still quite excellent. Enjoy!
Stream "Content to Reform":

Download the Complete show [MP3] / [FLAC]
Note: All of the material on this site is offered with artist permission, free to fans, at our expense. The only thing we ask is that you download the material directly from this site, rather than re-posting the direct links or the files on other sites without our permission. Please respect our request.
Diane Cluck
2013-02-05
Joe's Pub
New York, NY USA
Digital Master Recording
Soundboard + Audience Matrix
Soundboard + DPA 4061s > Edirol R-44 (Oade Concert Mod) > 2x 24bit 48kHz wav files > Soundforge (level adjustments, mixdown, downsample set fades) > CDWave 1.95 (tracking) > TLH > flac (320 MP3 and Tagging via Foobar)
Recorded and Produced
by nyctaper
2013-02-08
Setlist:
[Total Time 1:08:34]
01 Hai
02 Maybe A Bird
03 Content to Reform
04 [band introduction]
05 Grandma Say
06 [banter Song of the Week]
07 Heartloose
08 Far Too Witchy
09 Draw Me Out
10 Love-Letter Launches
11 Trophies
12 [banter – grandmas]
13 Roma
14 Soft Little Reach-Out
15 A Phoenix and Doves
16 Red August
17 Ainoneenany
18 Not Afraid to Be Kind
19 Why Feel Alone
20 Sara
21 [encore break]
22 Bird of Kindness
23 Easy To Be Around
If you download this recording from NYCTaper, we expect that you will PLEASE SUPPORT Diane Cluck, visit her website, and subscribe to her Song Of The Week [HERE].