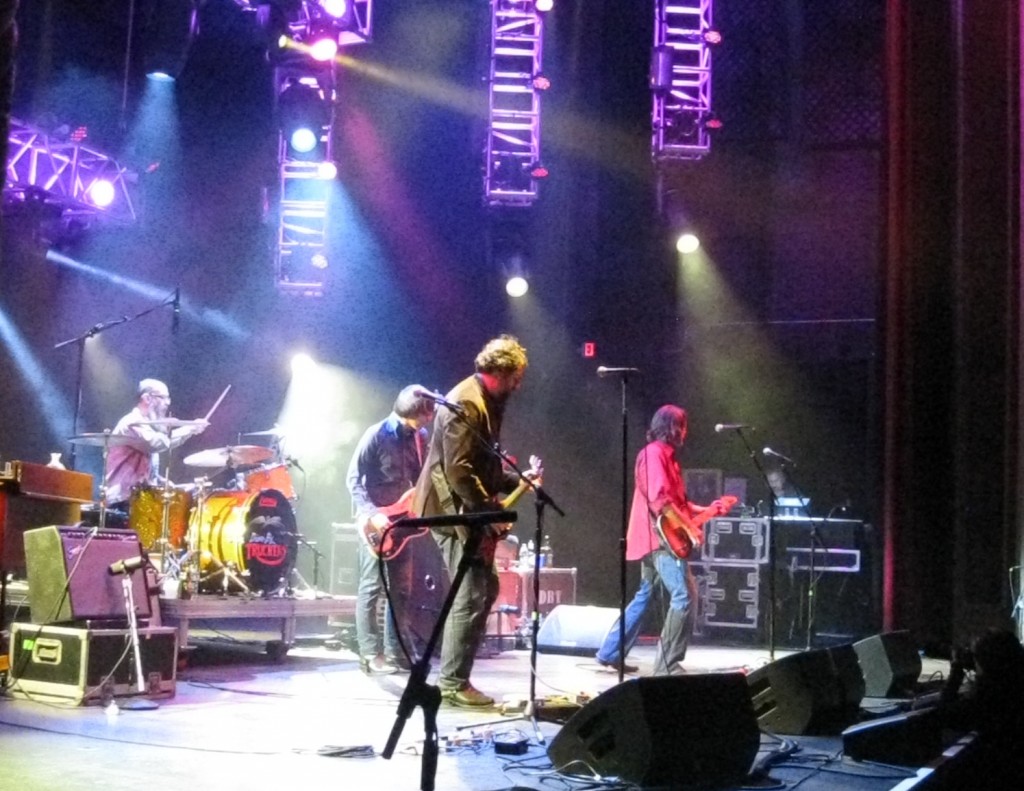 [photo by Joe Madonna]
A Drive By Truckers concert can be an exhausting and exhilarating experience. The show is jam-packed with superb material — songs filled with emotion, humor and expert storytelling. At the Capitol Theatre in Portchester on Friday night, DBT played one of the longest shows we've seen in years, not just in time but also in just pure music. The set was almost continuous, no banter, no tuning, no messing around. And at a full two and half hours, twenty seven songs and forty-minute, 9 song encore, it was exhausting. A good portion of the partying weekend crowd did not make it to the end. But for those who stuck it out, it was also a rewarding show. DBT can never be accused of giving anything less than 100% and Friday was no exception. The band was engaging and energetic and the highlights were a plenty. We're streaming "Let There Be Rock", which features a mix of all that makes Drive By Truckers great.
I recorded this show in the assigned taping spot in this venue, behind the soundboard and dead center. Although we'd prefer to be about 20 feet further up, this spot does offer decent sound and much of the conveniences of this excellent venue. The recording has some flaws, crowd chatter among them, but overall its a fine listen. Enjoy!
Stream Let There Be Rock":

This Recording is now available to Download in FLAC and MP3 and to Stream at Archive.org [HERE].
Note: All of the material on this site is offered with artist permission, free to fans, at our expense. The only thing we ask is that you download the material directly from this site, rather than re-posting the direct links or the files on other sites without our permission. Please respect our request
Drive By Truckers
2013-03-15
Capitol Theatre
Portchester, NY
Digital Master
Four-Track Audience Recording
Sennheiser MKH-8040 Cardioids + Neumann KM-150s > Edirol R-44 (Oade Concert Mod) > 2x 24bit 48kHz wav file > Soundforge (level adjustments, mixdown, set fades) > CDWave 1.95 (tracking) > TLH > flac (320 MP3 and tagging via Foobar)
Recorded and Produced by nyctaper
2013-03-17
Setlist:
[Total Time 2:25:58]
01 Lookout Mountain
02 A Ghost to Most
03 Why Henry Drinks
04 Women Without Whiskey
05 [banter – Capitol]
06 Used to be a Cop
07 Where the Devil Don't Stay
08 Tornadoes
09 Sounds Better in the Song
10 Puttin People on the Moon
11 Self Destructive Zones
12 Don't Be in Love Around Me
13 Birthday Boy
14 Girls Who Smoke
15 3 Dimes Down
16 Sink Hole
17 Uncle Frank
18 Hell No I Ain't Happy
19 [encore break]
20 Gravity's Gone
21 The Night GG Allin Came to Town
22 Panties in Your Purse
23 Let There Be Rock
24 Marry Me
25 Ronnie and Neil
26 Zip City
27 Shut Up and Get on the Plane
28 Angels and Fuselage
If you download this recording from NYCTaper, we expect that you will PLEASE SUPPORT Drive By Truckers, visit their website, purchase their official releases from the Store at their website [HERE].