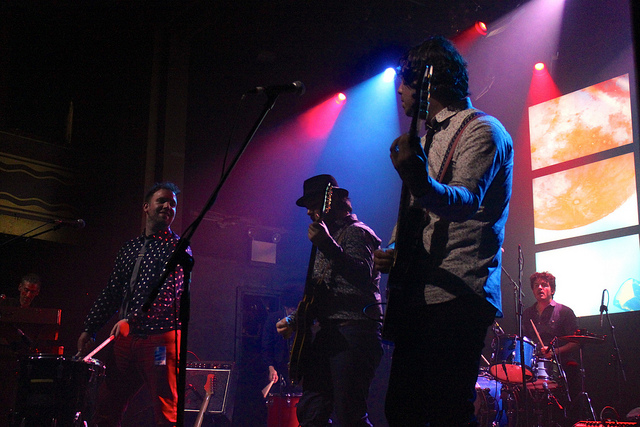 [photo courtesy of Will Oliver of We All Want Someone to Shout For]
Caveman has come a long way very quickly since we first saw them 18 months ago as an opening band at Cameo Gallery. At that show, opening for fellow quick-climbers The War On Drugs, it was fairly obvious that Caveman would be going places. A couple of months later they were playing larger gigs, and when their debut CoCo Beware was picked up by Fat Possum Records, the band went national. This month, the band released their anticipated follow-up to CoCo, a self-titled second album that retains the band keen sense of melody and 80s-influenced pop while taking the next step. Caveman is a more mature and more consistently excellent album — just exactly the kind of second album that bodes well for the long term future of Caveman. On Wednesday night at Webster Hall, the band celebrated a homecoming and the CD's new release with a triumphant show before a packed house. The setlist included most of the band's recorded material and they were simply ebullient throughout the seventy-five minute set. Matthew Iwanusa spent much of the between-song banter thanking the crowd and acknowledging the band's fortunes, and the feeling was mutual.
We recorded this set with the Sennheiser cardioids mounted inside the soundboard booth and mixed with an excellent feed provided by the band's touring FOH. Enjoy!
Stream "In The City":

Download the Complete show [MP3] / [FLAC]
Note: All of the material on this site is offered with artist permission, free to fans, at our expense. The only thing we ask is that you download the material directly from this site, rather than re-posting the direct links or the files on other sites without our permission. Please respect our request.
Caveman
2013-04-10
Webster Hall
New York, NY USA
Digital Master Recording
Soundboard + Audience Matrix
Soundboard + Sennheiser MKH-8040s > Edirol R-44 (Oade Concert Mod) > 2x 24bit 48kHz wav files > Soundforge (level adjustments, mixdown, downsample set fades) > CDWave 1.95 (tracking) > TLH > flac (320 MP3 and Tagging via Foobar)
Recorded and Produced
by nyctaper
2013-04-12
Setlist:
[Total Time 1:14:35]
01 Thankful – Backwards
02 Shut You Down
03 Easy Water
04 A Country's King of Dreams
05 In The City
06 Over My Head
07 My Time
08 December 28th
09 [banter]
10 I Never Want to Know
11 Ankles
12 Vampirer – Old Friend
13 Decide
14 [encore break]
15 Great Life
16 Where's the Time
If you download this recording from NYCTaper, we expect that you will PLEASE SUPPORT Caveman, visit their website, and purchase Caveman from the Fat Possum Records site [HERE].