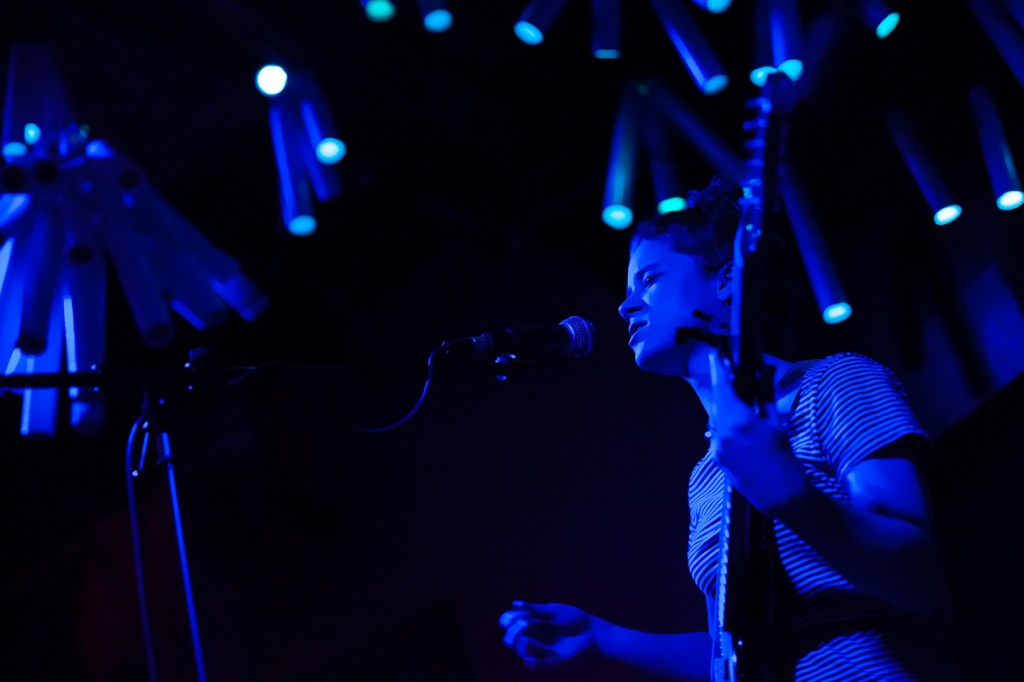 [photos by Dominic Mastrangelo]
It was three years ago that we saw what I believe to have been one of the first Lady Lamb the Beekeeper shows in New York, a solo set at the opening night of the Rock Shop. That was back in the days when Skippy was still in NYC and billed a show for the ages that night — Sharon Van Etten and TuneYards headlined the bill. Aly Spaltro was still a teenager at that point, but it was obvious that she was abundantly talented with unlimited potential. She was signed to Bada Bing Records, and after several self-released albums, the first proper Lady Lamb album came out this year. Ripely Pine is a superb album that highlights Aly's strengths — emotional vocals, intimate songwriting and aggressive musicianship. This is also an album that will profile her talents to a much wider audience. We saw the beginnings of that at a packed Glasslands on Saturday night. While the front half of the crowd consisted of fan-boys and fan-girls who seemed to know all the words to the songs, the back half of the crowd contained those "here to be seen" types who are both a blessing and a curse to an artist — more ticket sales but less attention. Aly's set consisted of much of Ripely Pine and a few older songs. We were particularly impressed with "Bird Balloons" which opened the set with a fury that never let up. Lady Lamb continues the tour on the East Coast before heading to Europe in the end of May.
I recorded this set in our usual manner in this venue, with the mounted Naiant cards matrixed with an excellent board feed mixed by Glasslands excellent house FOH Josh. The packed Saturday night crowd presented some challenges as the din of chatter is present at quiet moments. We were also visited by persistent thumps from the DJ at 285 next door. Otherwise the sound quality is excellent, and with those caveats, enjoy!
Stream "Bird Balloons":

Download the Complete show [MP3] / [FLAC]
Note: All of the material on this site is offered with artist permission, free to fans, at our expense. The only thing we ask is that you download the material directly from this site, rather than re-posting the direct links or the files on other sites without our permission. Please respect our request.
Lady Lamb the Beekeeper
2013-05-11
Glasslands Gallery
Brooklyn, NY USA
Digital Master Recording
Soundboard + Audience Matrix
Soundboard + Naiant X-R Cardioid > Edirol R-44 (Oade Concert Mod) > 2x 24bit 48kHz wav files > Soundforge (level adjustments, set fades, downsample) > CDWave 1.95 (tracking) > TLH > flac (320 MP3 and Tagging via Foobar)
Recorded and Produced
by nyctaper
2013-05-12
Setlist
[Total Time 1:02:22]
01 Bird Balloons
02 [band intro]
03 Aubergine
04 [banter – TJ]
05 Hair to the Ferris Wheel
06 Between Two Trees
07 Florence Berlin
08 Milk Duds
09 Regarding Ascending the Stairs
10 You Are the Apple
11 [banter – thanks]
12 The Nothing Part Two
13 [banter – loud voice]
14 Crane Your Neck
If you download this recording from NYCTaper, we expect that you will PLEASE SUPPORT Lady Lamb the Beekeeper, visit her website, and purchase Ripely Pine from Bada Bing Records [HERE].