[Photos courtesy of Mark A.]
How a musician makes the transition from indie rock to big-band gypsy jazz is anyone's guess, let alone being able to pull it off successfully.  But that's exactly what Noah Lit, the namesake of Los Angeles' Noah and the MegaFauna, did.  Rising from the ashes of his previous band, Oliver Future, Lit enlisted friends and family (brothers Joshua and Gabriel are part of the gang) to work on and produce their great 2011 debut, 'Anthems for a Stateless Nation'.  And on their return to New York for this performance, the group played all of its tracks with its intricately appealing rhythms, notes and layers.  Far more than a straight run-through of the album, this crew absolutely killed it live with an energy and tautness that comes with having a talented group of musicians that really enjoy what they're playing, for an audience that really appreciates it.  Additionally, we had the treat of a new song which we hope will appear on the band's forthcoming record, 'Psychopomps and Circumstance'.
On this night, we were set up just about dead-center in the terrific sounding Joe's Pub.  Our location was ideal and the results are quite excellent.  We hope you like what you hear as much as we did.  Enjoy!
Special thanks to Noah and the MegaFauna and Joe Rogers at Silence Breaks for making this recording possible, and to the staff at Joe's Pub for their courtesy and cooperation.
Noah and the MegaFauna will soon be returning to the NYC area and performing on July 2nd at Mercury Lounge with Silence Breaks labelmate Kelli Scarr. 
Stream "When You're Down (The Slackjaw's Serenade)":
Audio clip: Adobe Flash Player (version 9 or above) is required to play this audio clip. Download the latest version here. You also need to have JavaScript enabled in your browser.
Direct download of the complete show in MP3 [HERE]
Direct download of the complete show in FLAC [HERE]

If either of the links are no longer working, email nyctaper with a request for the download location of the files.
Follow Johnny Fried Chicken Boy on Twitter
Note: All of the material on this site is offered with artist permission, free to fans, at our expense.  The only thing we ask is that you download the material directly from this site, rather than re-posting the direct links or the files on other sites without our permission.  Please respect our request.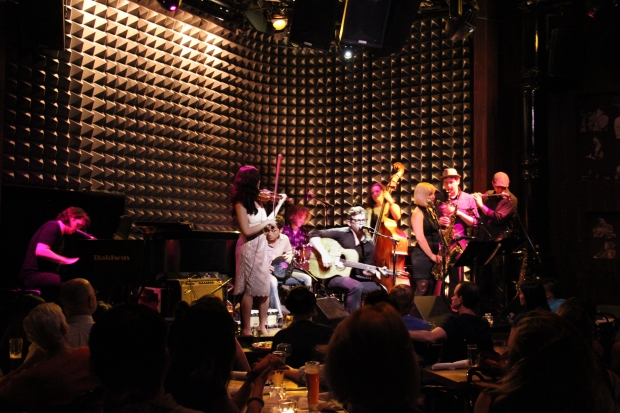 Noah and the MegaFauna
Sunday, June 24, 2012
Joe's Pub
New York, NY, USA
Source: AUD > Milab VM-44 Links (cardioid) > Edirol R-44 (WAV @ 24-bit/48kHz)
Lineage: R-44 > PC > Adobe Audition (mixdown, downsample, dither, tracking) > WAV (16-bit/44.1kHz) > TLH (check/fix SBE's, FLAC conversion) > FLAC ( level 8 )
Recorded and produced by: Johnny Fried Chicken Boy
SETLIST:
[Total time: 1:02:28]
01. We Knew We Had It Coming
02. Those Already Blessed
03. Au Revoir Shoshanna (We Shall Meet Again)
04. Moan All Night
05. [banter]
06. When You're Down (The Slackjaw's Serenade)
07. Until We Break Through
08. On and On
09. Gusano Coco
10. [banter]
11. R Futuristique
12. [band intros]
13. Liquid Modernity (You Can Never Go Home)
14. [banter / tuning]
15. We'll Sail Above This
If you download this recording, we expect that you will PLEASE SUPPORT Noah and the MegaFauna, visit their website, visit their Facebook and MySpace pages, and purchase their official releases and merchandise [HERE], at Amazon and at iTunes.