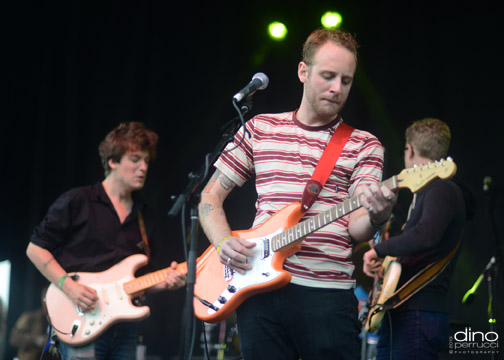 [photo courtesy of Dino Perrucci Photography]
Back in December, we caught Deer Tick twice at Brooklyn Bowl play complete albums in a look back on their outstanding career thus far. But 2013 is a year to look forward, as Deer Tick has completed a new album Negativity to be released in September. On the current tour, the band is playing quite a few new songs and we caught them early on playing a full sized set at Mountain Jam. Deer Tick played on Friday afternoon, late enough for a large crowd to join them on the Mountain even though most of their set was performed in the pouring rain. The main set mixed old and new in a well-paced show before the band thought their time had expired. Fortunately for us, the Festival allowed Deer Tick to play a couple of more songs — including an inspired Replacements cover that we are streaming below.
I recorded this set near the front of the soundboard area with the Neumann 102 cards underneath a sturdy umbrella. The sound has some issues related to the weather (raindrops on the umbrella, some phasing from the wind), but considering the circumstances we are very pleased with excellent sound of this recording. Enjoy!
Stream "Can't Hardly Wait" (Replacements cover):

This Recording is now available to Download in FLAC and MP3 and to Stream at Archive.org [HERE].
Note: All of the material on this site is offered with artist permission, free to fans, at our expense. The only thing we ask is that you download the material directly from this site, rather than re-posting the direct links or the files on other sites without our permission. Please respect our request.
Deer Tick
2013-06-07
Mountain Jam
Hunter Mountain NY
Digital Master Audience Recording
Neumann TLM-102s > Edirol R-44 (Oade Concert Mod) > 24bit 48kHz wav file > Soundforge (level adjustments, EQ, set fades) > CDWave 1.95 (tracking) > TLH > flac (320 MP3 and tagging via Foobar)
Recorded and Produced
by nyctaper 2013-07-06
Setlist:
[Total Time 1:16:18]
01 Ashamed
02 The Bump
03 Easy
04 Standing at the Threshold
05 The Dream is in the Ditch
06 Clownin Around
07 Smith Hill
08 Spend the Night
09 [Vanessa Carlton intro]
10 In Our Time
11 The Curtain
12 Baltimore Blues No 1
13 Now Its Your Turn
14 These Old Shoes
15 Main Street
16 Breed [Nirvana]
17 When It All Falls Down
18 Not So Dense
19 Can't Hardly Wait [Replacements]
20 In the Wee Small Hours of the Morning [Sinatra]
If you download this recording from NYCTaper, we expect that you will PLEASE SUPPORT Deer Tick, visit their website, and purchase their official releases from the Partisan Records Store [HERE].